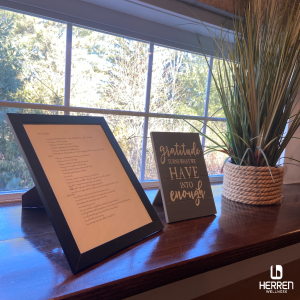 Note to Self: Impact on the Herren Wellness Community
My first week at Herren Wellness was a shadow week where I observed the culture and community.  I noticed that there was something different about Thursdays.  A couple of the guest's seemed a bit nervous and had friends in the community rallying around them saying things like, "I know how you feel, you'll get through it, we are here for you…you'll do great!"
I went upstairs to the main Group room, with the whole community there, and found a spot.  I noticed those two guests were seated in the front with papers in their hands and the room was respectfully quiet.  Aliza, one of the Life Coaches, asked "Is this anyone's first time at Note to Self?"  A few guests raised their hands so she went on to explain:
"Note to self is an exercise that we have guests do which was instituted by Chris.  He did a note to his childhood self on CBS and it had a big impact on him, so now we adopted it as part of the Herren Wellness experience.  We ask that you please don't leave the room and give the speaker your undivided attention and we will open up the floor to comments once the speaker is finished." 
In order for me to understand why this exercise was so impactful for Chris I had to go back to 2013 when he did his Note to Self for CBS.  This morning segment has included former presidents, thought leaders and sports moguls.  Chris is no stranger to the spotlight and putting it all out there, with his talks around the country and his memoir Basketball Junkie.  However this exercise in particular: the task of writing a letter to his childhood self from the perspective of all he has learned in 500 words or less, moved him in an unexpected way:
 Dear Christopher, 

I write to tell you that the path you take is tough but you will survive
and be very happy someday.​

​When I look at you I see a kind, smart, and athletic boy. You come from
a lineage of basketball and there are unreasonable expectations.  You
are programmed to be tough and win.

Christopher, it will seem hard to
express yourself and have a voice.  But ONE day you will and people will
listen. ​

​High school you play in sold out gyms getting taunted. Wearing your
name on your jersey isn't easy. The scoreboard has much more meaning
than fun. As your spotlight get brighter, you feel uncomfortable and
confused not knowing your losses are as important as the wins… both
have valuable life lessons.​

​At 15 you won't understand the power of a red solo cup full of beer and
the blunt that will lead you to stronger and more dangerous drugs. I
wish you never felt like you had to change who you are.  You are perfect
just the way you are.  Find comfort in knowing that ONE DAY you will
look into the mirror and like what you see.​

​Your senior year, the country's top colleges recruit you. But you choose
to stay close to home. Fall River is your safe place. Your relationship
with your mom is unconditional and immense. Your father and brother
offer you protection from the madness around you.. and Heather is
your sanity and one of the best things you hang onto in your life.. and
ONE day she will be your wife.​

​At Boston College, you will be introduced to ONE line of cocaine, and
although you promise yourself ONE time, that ONE line will be the
reason you get kicked off campus and barely make it through your
second college… and that ONE line will last 14 years. And although
you're gifted enough to get drafted into the NBA, your struggles will
continue chasing that ONE LINE.​

​At 22 you will spend $20 on a little yellow pill called Oxycotin and that
40mg pill will turn into 1600mgs (a day) and that $20 will turn into
$20,000 a month drug habit… And that ONE LITTLE pill will have you
outside the Boston Garden in your Celtics uniform 10 minutes before a
game waiting for your dealer. That little yellow pill will strip you of your
NBA dreams and goals and you will no longer be invited back into the
league. Two years later that ONE little yellow pill will become a syringe
that will stay in your arm for the next six years. Addiction will follow you
wherever you play. Whether Italy, Iran, Istanbul or China, you will fail.


You will take risks with your life and jeopardize your family's safety
searching for your fix on street corners all over the world. ADDICTION
will be your toughest opponent.​

​As a husband and father you will spend every dime you ever made on
drugs and put your family in debt. You will feel defeated and at times
suicidal. But ONE day please know you will find it in you to fight back .​

​On August 1, 2008 your awakening begins. You are granted a day off
campus from treatment to see the birth of your son. Yet again, you fail.
After his birth you walk out of the hospital and go get high. Upon
returning from the relapse your counselor tells you to pick up the
phone and promise your wife you will never call her again, and  to tell
your three kids their dad has died in a car accident because you don't
deserve a family and you should let them live. BUT instead you pray for
sobriety and from that prayer on, God willing, you will stay sober. ​

Treatment and faith gave you sobriety. It will be your life's greatest gift.
Sobriety will enable you to become the man you always wanted to be.
You will find your life's purpose from your struggles and you will share
your story in hope that it may help JUST ONE. 

You will be a voice for
those who are sick and suffering. You will no longer have shame and live
one day at a time.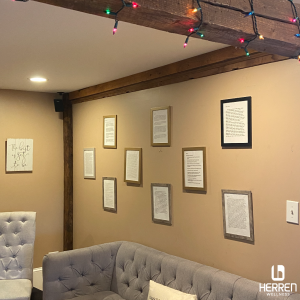 The first guest takes a deep breath and reads their Note to Self, papers shaking in their hands at times and tears falling on the pages.  A box of tissue is passed and the room is noticeably still of movement and sound.  The guest takes a long pause and says, "I'm sorry I don't think I can do this." I look around at the community with heads nodding in support and holding the space for her to begin again.  Some have tears in their eyes.  She finds the courage and continues to the end where she expresses hope and gratitude for her recovery and the community at Herren Wellness.  The silence is broken with applause for her bravery and commitment to the process.  The floor is opened to community feedback and hands go up to be called on by the guest who shared, and visibly seems lighter and relieved. 
The outpouring of love begins.  Comments such as "Wow, I never knew your whole story and now I understand why you are such a strong woman."  "I wish I could go back and be there for you when you went through that."  "I can't believe how much you have changed since the first day you arrived here." "You mean so much to this community and you have helped me more than you know."  After the shares another round of applause, and now it's the next guest's turn to read their Note to Self. 
"You end up admitting to yourself that you do need help and want the help from the Herren  Wellness community.  You end up meeting Emily, a kind and gentle soul who you learn to open up to and trust with your life. She helps you realize your self-worth, and never lets you look back. She shows you the true meaning of life, love, compassion, hope and intelligence. Coming to Herren is the best decision you have ever made. You are thankful that Chris and Lori have positively changed your view on life forever. As you continue your journey in recovery, The Herren Wellness community will always have a special place in your heart."
The impact of Note to Self at Herren Wellness is that it requires a deep level of vulnerability, self compassion, and introspection from our guests.  The process of explaining to one's inner child the experiences that are ahead, how people closest to them will help shape who they are, and how the choices one makes will all add up to who they turn out to be… this perspective is precious.  Both heartbreaking and full of hope.  Through the process guest's have the support of their Life Coach and the community at Herren Wellness, a safety net to fall on when needed.
Thursdays have become my favorite day at Herren Wellness.  I am always left in awe at the strength and heart that is put into this exercise.  The best part is getting to intimately know a guest more, and seeing how loved they are by the Herren Wellness Community.  
Note to Self: a seemingly simple exercise that allows our guests to be fully seen, heard, and unconditionally loved.  An experience that I would never want to miss.  
About Herren Wellness
When you come here, you are immediately connected with a thriving community of people at all stages of their recovery journey. We introduce healthy habits and routines centered around emotional, physical, and spiritual wellness that provide a solid foundation for rediscovering your interests, experiencing joy in sobriety, and building structure and routine.
We provide several alumni support communities, including a weekly recovery support group, monthly alumni meeting, and online alumni community you can access anytime. Your connection to Herren Wellness doesn't end when your stay ends; we are there for you throughout your recovery journey.
If you, or a loved one, are looking for help, please call us at (844) 443-7736, email us at info@herrenwellness.com, or fill out a contact form. You are not alone.