Image courtesy of @arlinaallen
The past year has been difficult for all facing the new challenges Covid brings such as working from home and increased feelings of depression and anxiety.  Now more than ever people have turned to alcohol to escape these feelings and are consuming at higher rates than in previous years.
For those who want a reset or want to reevaluate your relationship with alcohol, Sober October is a great option.  What began in 2014 has grown to a global movement with thousands around the world participating.  This week we provide tips on how to get through the month successfully and what to do beyond the Sober October challenge.
Where did Sober October originate?
 Sober October originated in 2014 as a fundraising campaign for Macmillan Cancer Support, a UK based charity that provides support to those living with cancer.  When participants sign up for Sober October to benefit Macmillan they are encouraged to raise funds from friends and family.  Funds raised individually and on teams are ranked each day on a Sober October leaderboard.  This fosters healthy competition with funds going directly to cancer patients, and also encourages people to evaluate their relationship with alcohol.  Since 2014 Sober October has grown into a global movement, but still thousands each year sign up for the original Sober October fundraiser benefiting Macmillan.
What are the rules for Sober October?
Sober October is intended for moderate and social drinkers to reexamine their relationship with alcohol (it is not recommended that heavy drinkers participate without consulting their Doctors).  For 31 days participants vow to stay sober and it is up to the individual whether they want to participate in the official Sober October, or do it on their own or with friends and family.  Individuals can also opt to share their journey on social media using the hashtag #soberoctober and join the thousands participating in the same movement.
Health Benefits of Sober October 
Heavy alcohol use can: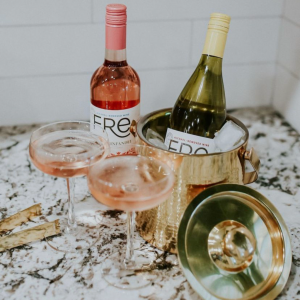 By going sober for just 1 month, you'll likely see at least a few benefits, like:
more energy
less irritability and anxiety
increased ability to fight off illness (particularly important when entering flu season and COVID-19)   (SOURCE)
Strategies on How to Thrive During Sober October
Keep busy with activities that bring joy
Sober October does not have to be boring!  This is a great time to remember and reignite what you love doing.  Starting a new home project or taking the class that you have been meaning to sign up for will fill time when you may be having a glass of wine.  Exploring new recipes to cook and nourish your body while you are reaping the health benefits of a month without booze.  Lastly, getting out in nature can boost your mood and is great exercise to get endorphins going.
Get friends and family involved for support 
Developing some accountability around Sober October is a great strategy to get through the 31 days.  Rallying friends and family can help keep you on track and motivate you at times when you are feeling in a slump.  Doing Sober October is also a way for you to connect in new ways with family and friends and strengthen the resolve to stay dry for the month.
Planning ahead for social gatherings will be important.  Consider bringing your own beverages or inquiring about drink options before arrival.  Also be prepared for people to offer you alcoholic beverages and be ready with a response such as "No thanks, not tonight" or "I am doing Sober October so I am good, thanks."  There is no need to avoid social events, however being prepared will help you achieve your goal.
Gather Non alcoholic drinks and new mocktail recipes 
Staying sober for the month does not have to be boring!  There are many non-alcoholic drink options on the market catered to people who are sober or simply want to cut back on their alcohol intake.  BetterRhodes is a great resource for any and all non alcoholic drink options and mocktail mixers to keep the month exciting!
Keep things in perspective 
You can expect that moments during Sober October will be difficult, changing habits is not easy and takes work.  It will be important to remember why you began this challenge whether for charity or health, and focus on the positives such as all the health benefits gained during this short time.  It's also important to keep in mind that the month is just that, a short period of time, and once the month is over you can re-evaluate your alcohol intake then and imbibe responsibly, and perhaps more moderately.  It is also valuable to tap into the wide online presence of people participating in Sober October to know that you aren't alone.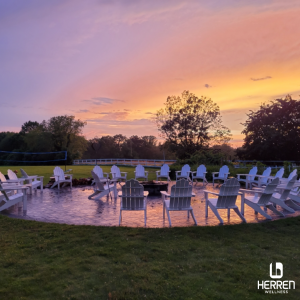 Beyond Sober October
Being sober for 31 days is a great opportunity to reevaluate your relationship with alcohol.  Perhaps during Sober October you experienced some twinges of missing alcohol and having a glass of wine with dinner, but were able to swap out for non-alcoholic options with no issue.  For others this period of time can reveal the large role alcohol plays in their lives- they may find that they were experiencing more cravings than anticipated and that social events were highly uncomfortable or triggering.  These are signs that the relationship with alcohol is worth exploring further than Sober October.
At Herren Wellness we support the Sober October movement and encourage people to participate and lean into the health benefits of going alcohol free for the month.  Taking the month to reset and evaluate your relationship to alcohol (and have money go to charity!) is a cause we can get behind.
If the month is harder than you anticipated and you are left with questions and concerns regarding your alcohol use, a trained professional is recommended to diagnose Alcohol Use Disorder.  At Herren Wellness we are here for you and our program is designed for those who feel alcohol is hindering their best lives.  Please contact us if we can help.
About Herren Wellness
Herren Wellness is a thriving community of people at all stages of their recovery journey. We introduce healthy habits and routines centered around emotional, physical, and spiritual wellness that provide a solid foundation for rediscovering your interests, experiencing joy in sobriety, and building structure and routine.
We provide several alumni support communities, including a weekly recovery support group, monthly alumni meeting, and online alumni community you can access anytime. Your connection to Herren Wellness doesn't end when your stay ends; we are there for you throughout your recovery journey.
If you, or a loved one, are looking for help, please call us at (844) 443-7736, email us at info@herrenwellness.com, or fill out a contact form. You are not alone.