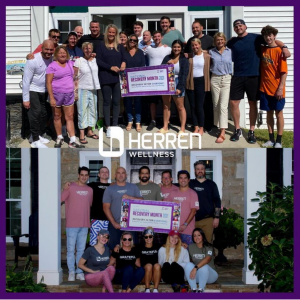 Throughout the month of September Herren Wellness celebrated National Recovery Month 2021.  Each year Herren Wellness participates in recovery month, however this year was special because we were able to include both of our locations Jacob Hill and Twin Oaks.
The theme for National Recovery Month this year is Recovery is for Everyone, Every Person, Every Family, Every Community.  In the spirit of the theme, Herren Wellness participated in events of remembrance and to celebrate recovery.  In this blog we will recap the fun and sense of community shared among our two locations.
Kick off Event at Jacob Hill and Twin Oaks
On September 1st our communities Jacob Hill in Seekonk, MA and Twin Oaks in Warrenton, VA gathered to kick off National Recovery Month.  Guests and staff participated in fellowship wearing recovery month t-shirts and joining together on hikes and walks around each campus.
What Does Recovery Mean to Chris, Heather and Lori?
We sat down with Executive Director, Lori McCarthy, and founders, Chris and Heather Herren, to ask them "What does Recovery Mean to you?"
Guest Written Reflection Activity
Throughout National Recovery Month we asked guests to participate in an activity asking what recovery means to them, their families, and how the Herren Wellness team impacted their recovery.  We were blown away with gratitude to receive guests answers and will share some below:
What Does Recovery Mean to You?
"Recovery means freedom from my inner demons, it means discovering self-worth and eternal love and joy.  Turning the light on in that dark and lonely room.  Unlocking the door to endless opportunity.  Having faith and hope.  Enjoying the little things in life and finding gratitude."
"Rediscovering health, joy, peace of mind, and the ability to love and be loved for who I really am."
"Getting my life back and learning to love"
What Does Recovery Mean to Your Family?
"Getting their son back."
"Recovery allows me to be there for my family like they've always been there for me.  To be able to receive their love by learning to love myself again."
"There she is.  There's my daughter."
How has the team at Herren Wellness impacted your recovery?
"They give me the faith I never had in myself!  They give me hope, they give me love, they saved my life."
"They taught me how to live a full life in sobriety."
"Believed in me when I didn't believe in myself and gave me faith that life's worth living."
Paintball Outing
At our Jacob Hill location we gathered guests for a paintball outing.  This was a chance for our guests to compete on teams and have fun!  We believe that a life in recovery is fun and that guests should experience this while in our care, especially celebrating National Recovery Month.
Golf Outing Twin Oaks
At our Twin Oaks location guests were taken on an afternoon golf outing.  At Herren Wellness we believe in the power of physical activity to aid in recovery, and the day couldn't have been more perfect.  Guests enjoyed the course and had laughs all without the use of substances, which is an experience that recovery offers, and we are so grateful to provide these opportunities for our guests.
Recovery Rocks Concert
On September 9th Herren Wellness was honored to sponsor Recovery Rocks, a musical celebration of recovery.  Our community gathered to support South Shore Peer Recovery's largest annual fundraising initiative.  The event featured two bands, great food, and a night celebrating all the gifts of recovery for the individual but also for families.  The theme of National Recovery Month was woven throughout the event… that recovery is for Everyone.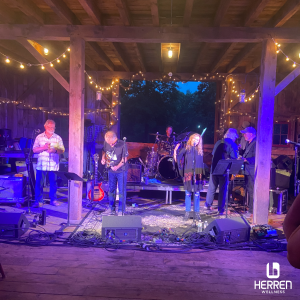 CAYA 5K 
On September 18th Herren Wellness was grateful to participate and sponsor the CAYA Coalition Run For Your Life 5K race in Rixeyville, VA.  Our founder, Chris Herren, was the keynote speaker and our Twin Oaks guests and staff banded together to run the race.  The day truly represented the spirit of recovery, people coming together through connection and purpose to complete a challenge for the cause.
National Addiction Professionals Day 
On September 20th Herren Wellness participated and recognized all the hardworking professionals who dedicate their lives to help individuals and families impacted by the disease of addiction.  We honored the hard work professionals across our organizations do, and also professionals across the field.  We believe that National Recovery Month wouldn't be complete without honoring these people and the hard work they do everyday.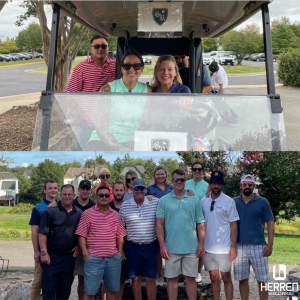 National Recovery Month 2021 has been a special time at Herren Wellness Jacob Hill and Twin Oaks.  Through our communities we were able to offer experiences which showed our guests that a life in recovery is full and to be celebrated, not only during recovery month but along their own journeys.
About Herren Wellness
Herren Wellness is a thriving community of people at all stages of their recovery journey. We introduce healthy habits and routines centered around emotional, physical, and spiritual wellness that provide a solid foundation for rediscovering your interests, experiencing joy in sobriety, and building structure and routine.
We provide several alumni support communities, including a weekly recovery support group, monthly alumni meeting, and online alumni community you can access anytime. Your connection to Herren Wellness doesn't end when your stay ends; we are there for you throughout your recovery journey.
If you, or a loved one, are looking for help, please call us at (844) 443-7736, email us at info@herrenwellness.com, or fill out a contact form. You are not alone.