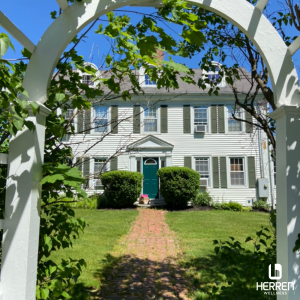 Herren Wellness Jacob Hill Grounds
Guest Success Story: Frankie L
At Herren Wellness we love to celebrate guest success stories.  This week we feature Frankie who has made a lasting impact on the community.  His energy is infectious and his personality fills the room.
Frankie spent about three months at the Jacob Hill main campus and moved on to our sober living house at Lincoln Street, and now participates as a Herren Wellness alumni.  He has been an inspiration to guests who have come in that they too can get sober and move through the Herren Wellness program, and remain engaged after leaving.
What brought you to Herren Wellness?  
For me that's a loaded question. Was it my addiction? Relapse? Fate? Insecurities? It's probably all of them. Growing up I never felt like I was enough. I never felt like I was fulfilled with life. It all culminated when I was 31 at the beginning of 2020, where I'd decided, seemingly on a whim, to do methamphetamine. I didn't want to feel anymore, I was too afraid of leaving this earth at my own hand, so instead I decided to do a drug I knew was insidious, I knew it would slowly take me. Within six months of using it I decided to get help. I went to another program and stayed sober for just over 5 months, then I relapsed.  Luckily I found Herren Wellness and started my journey of recovery five months ago.
Did anything surprise you about Herren Wellness?
It surprises me that it is a place of love, and I don't say that in some corny way…I mean it. The last place I went through was hard. It felt like a cold environment and they believed in "tough love" and that just didn't work for me. Herren Wellness embodies the goodness of recovery. Hope was at the front door of this place when I walked in, and I am so lucky to have found it.
What is a memory that sticks out to you from your experience?
An experience that sticks out the most was when I was on a zoom call with my siblings. I have never heard them speak so deeply. Looking at the four squares (me, my sister and my two brothers) on the screen was surreal for me. It burnt a lasting image in my brain. Anytime I have a fleeting thought or craving to use substances, I think of them. Those are the people I want to be with, and be like. I don't want to go down the dark path with the broken people I used substances with. There was unconditional love in those zoom squares and something shifted inside of me.  I just knew from then on using substances was a no-go for me.
Herren Wellness Lincoln Street Sober living
How was your transition to sober living at Herren Wellness?
Like any change in life, it had its ups and downs. I couldn't wait to move on at first, then when I got there I felt bored.  I struggled the first week or two finding my footing, but I got into a routine and it eventually became a second home for me. My roommates were awesome and I loved hanging out and playing games, watching tv, and connecting through random conversations with them. It was a taste of the real world for me. I ended up not really wanting to leave. Now being at an apartment and alone at times, I realize I didn't cherish those times enough.  I just try to use  the tools I learned at Herren Wellness and apply them to my life now. Overall, it was a great experience.
Tell us how your garden came about and what the community can expect from it?
For me, gardening is the only thing that can actually slow down this crazy brain of mine. I put my hands in the dirt, focus on the seedlings or plants and it seems all my worries tend to fly off. I just ended up seeing the garden in my mind one day, asked Chris and Lori if I could tend to it, and started growing plants from seedlings a few months ago. Now most of them are planted. I am growing all different vegetables like tomatoes, Bok Choy, Carrots, eggplants etc. I'm also growing culinary and medicinal herbs. The coolest thing is the Greenhouse that will be arriving. In there I will grow more medicinal herbs and bring my plants/trees from my house like the clementine tree, lime tree, Passion flower plants, olive tree, mulberry bushes. It will hopefully be a place of mindfulness and stillness where people can come in and reflect, tend the garden and learn something new at Herren Wellness!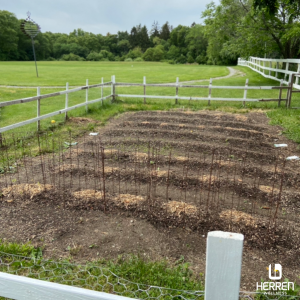 Frankie L's garden at Jacob Hill
We are so grateful to have cared for Frankie while he was here at Herren Wellness, to have him as an active member of the Alumni Program and be a part of his recovery journey.  The greenhouse garden continues to be built and will be here for future guests to enjoy adding an additional space for holistic therapy, reflection and meditation.  Most importantly, the greenhouse garden it will be a lasting testament to Frankie's journey here at Herren Wellness.
About Herren Wellness
When you come here, you are immediately connected with a thriving community of people at all stages of their recovery journey. We introduce healthy habits and routines centered around emotional, physical, and spiritual wellness that provide a solid foundation for rediscovering your interests, experiencing joy in sobriety, and building structure and routine.
We provide several alumni support communities, including a weekly recovery support group, monthly alumni meeting, and online alumni community you can access anytime. Your connection to Herren Wellness doesn't end when your stay ends; we are there for you throughout your recovery journey.
If you, or a loved one, are looking for help, please call us at (844) 443-7736, email us at info@herrenwellness.com, or fill out a contact form. You are not alone.