Meet The Team: Jamie & Zach
At Herren Wellness our staff sets the tone for the culture of recovery that is cultivated at our Jacob Hill and Twin Oaks campuses.  
Our Recovery Coaches Zach and Jamie have a special place at Herren Wellness Jacob Hill.  Zach was one of the first guests to come through the doors when we opened in 2018.  He eventually began working here and inspiring future guests with his recovery story.  Outside of Herren Wellness Zach met Jamie who also worked in the field.  Circumstances shifted for Jamie and her employment during Covid and she was offered a job at Herren Wellness in the same capacity as Zach.  
The most exciting news for Zach and Jamie is that they are engaged and will be married in September surrounded by loved ones and the friends they have cultivated in recovery.
This week we caught up with Zach and Jamie to hear more about their stories and roles at Herren Wellness.   
What brought you to Herren Wellness?
Zach: I came to Herren wellness March 5th, 2018. The first day they opened. I was once again struggling with substance abuse as I had been since I was 14. I was completely lost. Having been to treatment many times before, I came to my mom and told her I wanted to try and get sober one last time. My Step dad had a talk radio show for sports and he had Chris Herren on the show years before. He reached out to Chris for a referral to a good place and it just so happened that Chris was opening Herren Wellness in a few weeks. So I took the chance and flew up from Alabama and it has been the best decision I have ever made in my life.
Jamie: I first started coming to Herren wellness when I met Zach. My mom had actually realized when I had first met him and told her he had gone to Herren that Lori was the director here, and Lori had helped me out years ago, so it was a cool connection. Zach had been a guest here, then started working here, and I would bring our dog bama to visit him while he was working. It was such a welcoming and comforting place to be, so I ended up going there a lot to hangout. 
What is your role at Herren Wellness and has it changed recently?
Zach: I started working at Herren Wellness as a Wellness Associate. I love being a Wellness Associate and being able to facilitate groups, while also being able to help and spend time with the guests during free time, and really getting to know them and sharing with them my experience, and hopefully being able to help them with theirs.  The Transition to a Recovery Coach has been nothing short of amazing. I love being able to help the guests more personally and I love the work with the families and helping with the growth of the family relationships because I believe that is one of the most important things. Most of all I love seeing people go back out into the world and claim their lives back and  live and enjoy life sober! 
Jamie: My role at Herren wellness started as a Wellness Associate and a hyperbaric chamber operator. About two months ago Zach and I transitioned from WA's to the Recovery Coaches for Lincoln street(Herren Wellness Sober Living). I coach the women, he coaches the men. When Chris and Lori first offered us this promotion, I was so nervous. Even three years into recovery, self doubt still pops up. However it has been great so far, I love being able to help the women more individually and one on one. I remember like it was yesterday when I was in another sober house, with a month sober, having no idea what to do with my life. So being able to be there for the women who may feel like that is pretty cool. 
How has it been working with your partner?
Zach: It has been amazing. It can be stressful at times and sometimes difficult, but the beautiful part about it is we are both in recovery and can have that perspective. We both love the job and giving it back.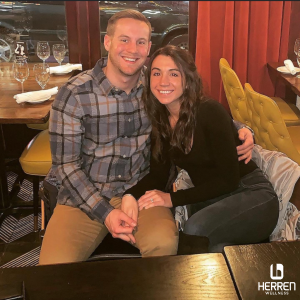 Jamie: I was very hesitant to work at Herren because I was nervous about this. I started working there when Covid hit, my other job had closed, and Chris offered me a job. At first, we would work a lot of opposite days and shifts which was difficult, but after a while and working together, it's actually been great. I love getting to see Zach interact with the guests and run groups and see how much of an impact he has on the entire community, or coming into work and guests telling me how much they love my fiancé and how much he has helped them. It's made us closer in ways too. We don't come home and really talk about work because we still need to have our own relationship and life, but if one of us is having a hard time with something at work, the other completely understands and can help.
What has it been like planning a wedding in recovery?
Zach: More like planning multiple weddings in recovery, mainly due to Covid, however I can't take that credit. My fiancé has done most of the planning and she has done an amazing job. I know that it has been stressful and I have helped with what she has let me help with, but she has handled it like a champ and worked her recovery throughout the whole process. 
Jamie: It's been extremely difficult and stressful. This is the third wedding we have planned in about a year and a half. But I think the one good thing that's come out of it is that we no longer want some big fancy wedding, we realized after we cancelled the first one and seeing so many couples get married at town hall or their backyard, it just doesn't matter. We want our family and closest friends to be there and just have a good time. So even though it's been insane, I think it gave me a much better perspective on our wedding. 
What are you most looking forward to on your wedding day?
Zach: It's hard to choose one thing. Obviously I can't wait to be able to marry my best friend and be able to call her my wife. I just can't wait for the night as a whole. I can't wait to see my family and her family together. I really can't wait to see all the recovery relationships we have built together over the years all together in one room. It's going to be so much fun. 
Jamie: THE HONEYMOON. Of course, but also my parents getting to see me get married, healthy, happy and sober. That's the biggest reason Zach and I didn't just elope during Covid, because we know how happy and proud our parents are and we want them to be there. I've learned over the past year and a half that our wedding will absolutely not be perfect, something will always happen, but I just know it's going to be so much fun no matter what.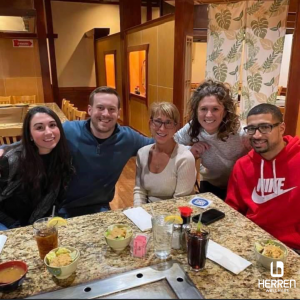 What would you say is the best thing about the Herren Wellness community?
Zach: I would say my favorite thing about the Herren community is that it really is like one giant family. I came to Herren in March 2018 and did six and a half months as a guest. Afterwards I got an apartment and moved to Massachusetts because I didn't want to lose that family. The family feeling and the genuine love that comes with me is what made me want to stay here. It's the best decision I have ever made for myself. 
Jamie: The best thing about the Herren wellness community is that it truly feels like family. When Covid first hit, and my job closed, I didn't start working at Herren for a month or so. Zach was still working, I was home alone everyday going insane. So I started just bringing Bama to Herren. Meetings were closed and on zoom, I couldn't see my family, so being accepted there and having a place to go to, and being surrounded by people who understand me, was exactly what I needed. And even now, some days are stressful and hard at work, but I still look forward to going. I love all of my coworkers, I love getting to know the new guests and seeing them come out of their shells, I love seeing the guests that have been there a while helping the new guests. It's just a great environment to be in. I can be having a rough day but going to work takes me out of myself and whatever I'm going through, and usually after, whatever I was frustrated or annoyed about doesn't seem that important anymore. 
We are so proud of Zach and Jamie for stepping into their new roles as Recovery Coaches and helping guests in a new capacity.  This fall we will celebrate the beautiful couple they make in recovery and how important they are to the Herren Wellness community.
Our Recovery Coaching program enables us to work with guests as they transition through the Herren Wellness program to sober living.  The Recovery Coaches work directly with guests during the transition providing support and resources and assist in planning their departure from sober living back into their lives with their families.
About Herren Wellness
When you come here, you are immediately connected with a thriving community of people at all stages of their recovery journey. We introduce healthy habits and routines centered around emotional, physical, and spiritual wellness that provide a solid foundation for rediscovering your interests, experiencing joy in sobriety, and building structure and routine.
We provide several alumni support communities, including a weekly recovery support group, monthly alumni meeting, and online alumni community you can access anytime. Your connection to Herren Wellness doesn't end when your stay ends; we are there for you throughout your recovery journey.
If you, or a loved one, are looking for help, please call us at (844) 443-7736, email us at info@herrenwellness.com, or fill out a contact form. You are not alone.