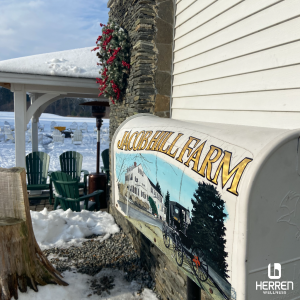 24 hours at Herren Wellness
Over the holidays I asked the Herren Wellness community on social media what content they wanted me to publish. A few people requested to know what a day at Herren Wellness looks like… and I found it apropos as we are all getting back to our routines from the holiday season.
So here is an average day at Herren Wellness… from my perspective.
9am: I pull into Jacob Hill and see the women are in the gym with our trainer Nick.  I walk in to snap a photo for social, and the timer on the wall is counting down.  Music is playing and the energy is high.  One guest is on the Peloton and the others on the floor with weights tuned into Nick's demonstration.  The men already had their session at 7:30, and as I walk into the main house I spot them chatting over smoothies and coffee in the breakfast area.  I look up to the windows of the yoga studio and see two guests in class with our yoga instructor Rachel.
9:30am: Daily check in.  The group is split in two: Group A in the front house Group B in the main house.  I sit in on Group B and today the reading is from the daily meditation book Honor the Beginning by Melody Beattie:
"Let yourself begin anew.  Pack your bags.  Choose carefully what you bring, because packing is an important ritual.  Take along some humility and the lessons of the past.  Toss in some curiosity and excitement about what you haven't yet learned.  Say your good-byes to those you're leaving behind.  Don't worry who you will meet or where you will go.  The way has been prepared.  The people you are to meet will be expecting you.  A new journey has begun.  Let it be magical.  Let it unfold."
We go around the circle and reflect on the passage and some check in on how they are doing.
10am: I am working on my laptop in the breakfast area and Sarah* sits down to say a quick hello.  She has an acupuncture appointment on site and I ask her questions about it out of curiosity.  She finds it very centering and is grateful it is offered here.
10:30am: The main house becomes busy with guests as they gather to go upstairs to the main meeting room for Group with the life coaches.  The coaches open up group by checking in, and then dive into the exercise of the day which is about negative thought patterns and how to redirect them.  The guests take sheets and pencils and find a quiet spot to reflect on a situation over the past few days which led them to a negative thought space.  When group reconvenes guests share about their experience and how they attempted to redirect the negative thought on their own.  The coaches and peers give suggestions and weigh in to help the guest with tools on how they can manage moving forward.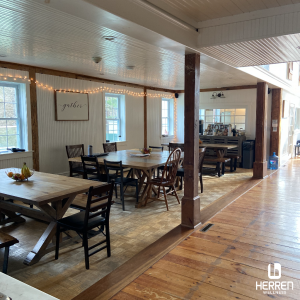 12pm: Lunch: Chef Adam has prepared bruschetta chicken, quinoa salad and a roasted vegetable platter.  I make myself a salad from the fresh salad bar and throw on some roasted vegetables and a piece of chicken.  I sit down and guests are chatting about Group and who has a life coaching session that day.  Each guest meets with their life coach twice per week for individual sessions and family therapy.  Jamie comes over to the table to grab Mike* who has a session in the hyperbaric oxygen chamber.  The lunch area starts to quiet down after 12:30 with guests heading to different on-site appointments.  A few guests are gathered at a table working on the Sunday New York Times crossword… only about ⅓ to go!  A couple guys have an ongoing ping pong battle, so they head upstairs to play… and there may be some yelling now and then.
1:30pm: There are two group options: Adult Children of Alcoholics (ACA) and a Big Book meeting.  These groups change everyday and adjust to the community at Herren Wellness.  I opt for the Big Book meeting and the excerpt read is from A Vision For You: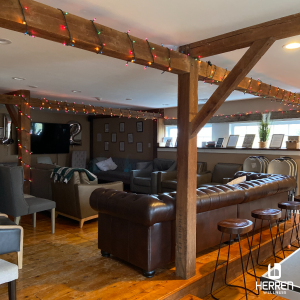 For most normal folks, drinking (using) means conviviality, companionship and colorful imagination. It means release from care, boredom and worry. It is joyous intimacy with friends and a feeling that life is good. But not so with us in those last days of heavy drinking (using). The old pleasures were gone. They were but memories. Never could we recapture the great moments of the past. There was an insistent yearning to enjoy life as we once did and a heartbreaking obsession that some new miracle of control would enable us to do it. There was always one more attempt – and one more failure.
3pm: While enjoying my afternoon cup of coffee in the main area I am overjoyed to see a previous guest Sean* walk in.  He has brought a friend with him who is in need of our help and being admitted to Herren Wellness today through his referral.  Sean looks great and I ask him how he's doing and he responds "never been better."  A full circle moment… I look forward to getting to know Sean's friend.
3:30pm: Living Sober group with Kevin.  Kevin chooses a passage from Living Sober to kick group off, from the chapter on Gratitude:
We continually find opportunities to make similar considered choices, and our experience convinces us that feeling gratitude is far more wholesome, makes staying sober much easier. It will come as a pleasant surprise to discover that it is not difficult to develop the habit of gratitude if we just make some effort.  But it soon comes easier, and can become a strong and comfortable force in our recovery. life was meant to be enjoyed, and we mean to enjoy it.
Following the reading guests share.
5pm: Chef Adam prepares beef tenderloin and salmon with roasted vegetables, pasta, and blue cheese salad.  The energy is more mellow as the day winds down but there is a heavier emphasis on fellowship.  The night staff bring a great energy to the group rallying conversations and games.  Some guests opt to utilize the gym to blow off some energy before the last group.  Joey always rallies someone for a tennis match.  I notice Sarah* is journaling with a cup of tea.  This time is for the guests, they can socialize or decompress, whatever feels best on that day.
7pm: AA/SMART Recovery/Refuge Recovery in-house meeting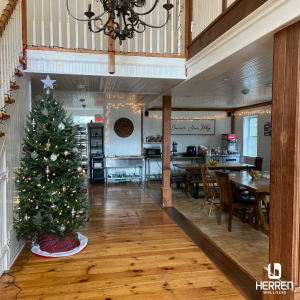 8:30: Wrap up.  To close the day each guest shares how they are doing with the community and if any support is needed going into the evening.
What I love about Herren Wellness is how quickly we adapt. Covid-19 forced us to get creative and bring 12-step and recovery groups in house, along with other holistic services.  Our groups are tailored to the community at the time: Over 30/under 30, Parenting class, Financial planning, etc.  That's what makes Herren Wellness so different: the ability to adapt to the individual and community.
So while our current schedule now may not include daily outside meetings and fun excursions every weekend, the joy of recovery is palpable when you walk through the doors.
From 9:30am check in to 8:30pm wrap up.
About Herren Wellness
When you come here, you are immediately connected with a thriving community of people at all stages of their recovery journey. We introduce healthy habits and routines centered around emotional, physical, and spiritual wellness that provide a solid foundation for rediscovering your interests, experiencing joy in sobriety, and building structure and routine.
We provide several alumni support communities, including a weekly recovery support group, monthly alumni meeting, and online alumni community you can access anytime. Your connection to Herren Wellness doesn't end when your stay ends; we are there for you throughout your recovery journey.
If you, or a loved one, are looking for help, please call us at (844) 443-7736, email us at info@herrenwellness.com, or fill out a contact form. You are not alone.