At Herren Wellness, recovery is a part of our culture and many members of our team live a life in recovery from substance use. Nick Correia is a Personal Trainer and Coach at Herren Wellness, a true example of the power of recovery.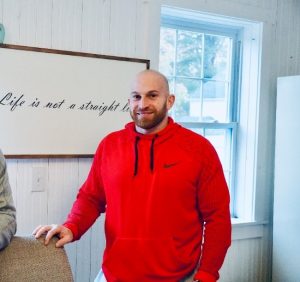 Sports were a big deal where I grew up, and I was just an average athlete at the time, so my way of fitting in was drinking. That's where I felt like I fit in. I started drinking only on weekends or drinking at parties – maybe one day a week. Around 2010 I couldn't manage it anymore. The drinking and drugs were catching up with me and I was in and out of work. I got a DUI and started to get into trouble.
In 2012 Chris, who I knew of from growing up in the area, sent me to live in a sober house, but when I got out, I kept drinking. I couldn't get the hang of recovery. In 2013 I went back to treatment, with the help of Chris and his brother, Michael. They sent me to a longer-term sober living house. I moved to Martha's Vineyard and started working construction, went to a lot of recovery meetings, worked out, and developed a sober network.
I started to get things back. I was the foreman of a small construction company, and I was working out every day. It felt like something was missing, but then I started coaching kids again at New Bedford High School and rediscovered my passion for coaching. I was all in. Sports and coaching changed everything. I had forgotten how much sports meant to me. People started asking me to train teams and their kids.
After training Chris Herren Jr., Chris asked me to come work as a coach and trainer at Herren Wellness.
I had always watched Chris' journey; we came from the same place and had such similar experiences, and then I saw him sober and making a difference and it made me believe I could do it, too. To go from where I was, to being the trainer at Herren Wellness is incredible to me.
The biggest transformation I see in the guests here is the change in how they view themselves. They come in very unsure, with low self-esteem, and no confidence. People that I have to wake up to get to the gym get to the point where they are waiting for me in the morning to get training. People go from never having done a push-up and thinking they can't, to doing 40 push-ups.
Guests who do the work, follow the nutrition plan, and work out daily – they look and feel better about themselves, and you see the light come back in their eyes. They start smiling – real, genuine smiles! I love seeing that.
One of the coolest things I've seen here is a guest who came in really beat up, and I told him he was going to run half a mile. He didn't think he would ever do it. I talked with him a while and encouraged him to try working out. He began working out first thing in the morning – about 5am – with a bunch of younger guys, but he didn't let that stop him. He put in the work. One morning I told him it was time to run half a mile on the treadmill, and he was still unsure. I told him "just don't stop".
We played Rocky music, people were cheering him on, and he ran a whole mile – he beat his goal. It was amazing to see him believe in himself and see how the community supported him.
I don't like it when people say, "I can't". If you tell yourself that, you probably can't, without even trying.
The most important thing is to believe in yourself and believe that you can. No matter what. I try to learn more and grow every day.  Working out was a big part of me getting sober, going against that voice in me that told me I couldn't. Each goal I hit and exceeded strengthen my recovery, and that's what I do for the guests.
I tell people "I'm just like you". I'm just a little further along in my journey than they are. They help me as much as I help them. That's how recovery works. I'm so grateful every day to be in recovery and to have the chance to help others life a live of recovery, too.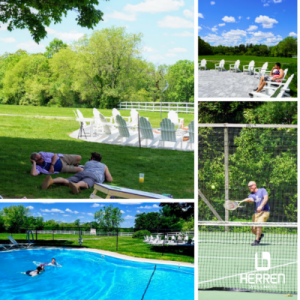 Herren Wellness Can Help
We help guests build the skills that are essential to a sustainable recovery, including mindfulness practices, self-care and self-esteem skills, maintaining healthy relationships, and digging into the root causes of what led them to become dependent. We guide guests on how to build upon the skills they already possess and help them discover their 'why', or what motivates them to maintain a life of wellness and recovery.
If you, or a loved one, is looking for help, please call us at (844) 443-7736, email us at info@herrenwellness.com, or fill out a contact form. You are not alone.