At Herren Wellness we continually seek ways to innovate our program and offer our guests the best tools and resources available to support holistic wellness and recovery. We are thrilled to announce we have added cutting-edge hyperbaric oxygen chamber therapy (HBOT) to the growing list of holistic therapies available to our guests.
What is Hyperbaric Oxygen Chamber Therapy?
Simply put, HBOT is a non-invasive and painless therapy that delivers 100% pure oxygen to a guest in a pressurized chamber through the process of normal breathing. The 60-minute session increases oxygen into blood stream improving energy levels, tissue regeneration, reducing inflammation and pain, accelerating the natural repair of damaged organs, and enhancing immune functioning.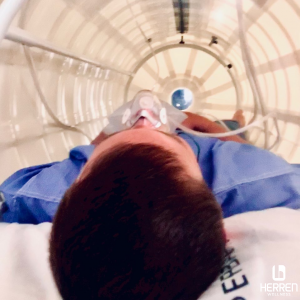 HBOT has been clinically demonstrated to help ward off disease, infection, heal wounded tissues, and promotes homeostasis within the body. Homeostasis provides the best possible physical condition for the body to heal both physically and mentally.
Hyperbaric Oxygen Chamber Therapy, Substance Use Disorder, and Recovery
While the use of HBOT is still relatively new therapy for the treatment of substance use disorder (SUD), research has shown that HBOT helps to accelerate healing in the body and brain, especially in areas most damaged by SUD to include:
decrease swelling and inflammation in the body and brain
improve symptoms of substance withdrawal
heal damage to the liver, pancreas, and brain
detoxify cells in the body and the brain
improve circulation in damaged tissues
improve sleep patterns
reduce cravings
decrease healing time for injuries
stimulate the appetite
improve focus and concentration
Research has shown that HBOT shows promising results in helping people address other conditions that may contribute to SUD and its treatment, including traumatic brain injury (TBI), post-traumatic stress disorder (PTSD), and mental health disorders like anxiety and depression.
Hyperbaric Oxygen Therapy at Herren Wellness
Herren Wellness has partnered with ANDI International through a generous gift made possible by Barbara and Ralph Crafts to offer HBOT to our guests. We have a HBOT chamber onsite at Jacob Hill in MA and will also have a chamber at Twin Oaks in VA set to open this summer. At both locations staff members participate in an intensive training and certification class to operate the chamber. This is the same level of certification that is found in a medical setting, such as at a hospital.
While we prioritize participation in the essential elements of our recovery programs first, the HBOT chamber is available to any eligible guest on a voluntary basis. It is rare for a mental and/or physical condition to prohibit participation in HBOT, and we perform a careful screening and assessment prior to guests receiving this treatment. We customize each guest's dosage and experience with HBOT based on their needs and comfort level.
We also provide Bluetooth headphones so guests can enjoy relaxing music or a guided meditation while receiving HBOT. Some guests get so relaxed they fall asleep!
Herren Wellness Guest Feedback About HBOT
In the two months since we began HBOT, we have provided approximately 100 treatments with 80% of guests requesting additional treatment appointments.
The most commonly reported benefits of HBOT by our guests include:
Improved sleep
More energy, especially the day the treatment is received
Decrease in withdrawal symptoms
Reduced anxiety
Reduced aches and pains
Because symptoms like poor sleep, lethargy, restlessness, body aches, anxiety, and more are common in early recovery, HBOT helps reduce the negative impact these physical and mental ailments can have on early recovery.
About Herren Wellness
When you come here, you are immediately connected with a thriving community of people at all stages of their recovery journey. We introduce healthy habits and routines centered around emotional, physical, and spiritual wellness that provide a solid foundation for rediscovering your interests, experiencing joy in sobriety, and building structure and routine.
We provide several alumni support communities, including a weekly recovery support group, monthly alumni meeting, and online alumni community you can access anytime. Your connection to Herren Wellness doesn't end when your stay ends; we are there for you throughout your recovery journey.