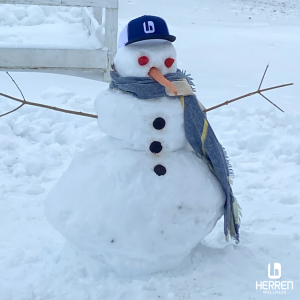 Holidays at Herren Wellness
It's the week of Christmas here at Herren Wellness.  The world is upside down and heavy… but walking into Jacob Hill the Christmas spirit is very alive.  Joey is outside burning a fire in the pit surrounded by the adirondack chairs covered in snow.  When I walk through the door Zoe the golden doodle greets me, and as always leads me to the Christmas tree which now has some presents underneath.  The room twinkles with white lights draped along the ceiling grazing signs of hope hanging on each wall.  Laughter explodes frequently from staff and guests in the main office and common area over morning coffee.  Life is merry at Herren Wellness.
I sat down with a current guest Sarah* at Jacob Hill and asked her what her holiday would have looked like if she was not at Herren Wellness:
"Christmas for me would have been spent alone.  My father has passed and my mother is in Florida, but I likely would have declined that invite.  Sometimes I would offer to work over the holiday because I don't have kids and it would give others chances to be with their families.  So I would have been alone and drinking all day…isolating.  My experience here has been overwhelming, you know I spent Thanksgiving here, and it was great.  Being here was beyond what I expected, I thought people would leave and go home for the holiday and everyone stayed.  And when it comes to early sobriety it is important to surround myself with people who are going through the same thing and avoiding the triggers that the holidays can be.  So I am looking forward to spending Christmas here, this is where I'm supposed to be." 
Sarah joins the rest of the community in the excitement for this week's festive activities… and we are going to fill you in on what the holidays are like at Herren Wellness!  Due to Covid-19 we assure that our staff and guests have proper PPE and maintain adherence to CDC guidelines.
Jacob Hill
Monday: Letter of Affirmation exercise- guests will choose a name out of a hat and have the week to put together a letter to be read aloud on Christmas
Tuesday: We will be taking guests to The Magic of Lights show at Gillette Stadium
Wednesday: Ski trip at Wachusett Mountain… nearly all guests are on board!
Thursday: Cookie baking contest (we have a lot of guest's talking big game!)
Friday: Our property manager Mike will be setting up his "famous" crepe bar with the works!
             Guests will read letters of affirmation to the group
             Chips ceremony celebrating lengths of sobriety
             Chef Adam will cook a Christmas feast!
Twin Oaks
Sunday: Holiday Lights at Bullrun Festival of Lights
Monday: Holiday Card Making… with watercolors! We have some very artistic guests!
Tuesday: Gingerbread Houses
Wednesday: Day trip to DC… a chance to get out and see the holiday decor at our country's capitol!
Thursday: Yankee swap Secret Santa and sugar cookie decorating!
Friday: Christmas Celebration!
2020 has been a year of tremendous loss collectively, and has imposed isolation on everyone.  The guest's who have found themselves in our care have a unique opportunity during this time to stay connected within the Herren Wellness recovery process and to the community which they have bonded.  As staff, we also feel incredibly fortunate and grateful to have the community for our own well-being and recovery, we walk alongside our guests.
Alex, our Program Director at Twin Oaks, incorporates her family into the celebration.  On Thanksgiving Alex and her husband Kurt brought their two daughters to join guests in a feast.  The guests loved having the girls and many laughs were had.  When I asked Alex about how she feels about her daughters being around guests who are in her care she shared:
 "I am grateful that my girls have the opportunity to spend time with people actively working on recovery. I think it is a powerful example for them to see that people can always strive to be better versions of themselves. The self-awareness and self-reflection I see in our guests is something I love my children being around. Many celebrations in our society are centered around unhealthy substance use and I am glad to offer them an alternative experience."
That is what Herren Wellness is: pride in recovery and the celebration of the effect on the family.  When Chris and Heather Herren founded Herren Wellness they wanted their centers to be a place where stigma is shaken… not only from those being treated but also the family.  That spirit is alive more than ever this holiday season and is reflected in the communities at Twin Oaks and Jacob Hill with the celebration of individual and collective recoveries.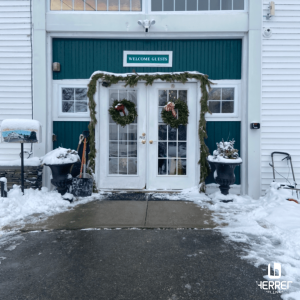 This holiday season we at Herren Wellness feel grateful.  Grateful to be a part of our guests' recovery.  To see some guest's experience the magic of the holidays for the first time sober.  We see the moments of being present and feeling joy, which for many has been far too long.  We see the support our community gives to each other and the unfolding of each individual's journey as they walk through our doors.  We see the light come back in the eyes and genuine hope for the future.  Thank you for giving us at Herren Wellness this gift, it's the real holiday miracle. 
About Herren Wellness
When you come here, you are immediately connected with a thriving community of people at all stages of their recovery journey. We introduce healthy habits and routines centered around emotional, physical, and spiritual wellness that provide a solid foundation for rediscovering your interests, experiencing joy in sobriety, and building structure and routine.
We provide several alumni support communities, including a weekly recovery support group, monthly alumni meeting, and online alumni community you can access anytime. Your connection to Herren Wellness doesn't end when your stay ends; we are there for you throughout your recovery journey.
If you, or a loved one, are looking for help, please call us at (844) 443-7736, email us at info@herrenwellness.com, or fill out a contact form. You are not alone.