Our guests and alumni know all about 'the board'.
It's where Nick Correia, Herren Wellness' Personal Coach and Trainer, writes down guests' fitness goals for each day.
Every guest arrives at Herren Wellness with a different level of comfort and ability when it comes to fitness. Substance use often eclipses a person's ability to prioritize exercise and other healthy habits, so each guest works with Nick to create a customized fitness plan based on specific goals to improve their health and wellness physically, mentally, and emotionally.
Scheduled workouts happen every morning – men at 7:30am and women at 8:30am. For people recovering from substance use disorder, morning was usually a difficult time of day. By getting the day started with fitness, guests begin the day with motivation and energy as well as the satisfaction of working towards healthy goals.
"My goal is to try to make everything a team-like atmosphere in the gym. I want there to be a lot of energy and positivity between guests and inside themselves".

~ Nick C., Personal Trainer and Coach, Herren Wellness
Fitness isn't about quick fixes; it involves incremental changes guests work into their daily lives. It isn't something separate and distinct from guests' recovery journey; it's part of their recovery journey.
Personalized Fitness Plans
When a guest first arrives, Nick takes an assessment of their physical ability, injury history, overall health, and fitness goals and creates an individualized plan for each person.
The assessment involves a 10-min walk on a treadmill or a session on the bike so he can observe movement patterns, how their nervous system responds, and the way their joints move to benchmark starting point.
From there, he builds a personalized fitness plan focused on helping each guest move through attainable goals aimed at forward progress at a healthy pace.
Each morning 'the board' itemizes the workout cycle for that day, with Nick available for questions, assistance, and encouragement.
"It's incredible to see guests who, when they first arrived, didn't have confidence and/or ability when it comes to fitness evolve throughout their stay," says Nick. "The progression isn't just in their abilities in the gym; it's amazing to see them start to sleep better, their mood improve, have more energy, more confidence, and become people who can inspire others at the beginning of their journey".

~ Nick C. Personal Trainer and Coach, Herren Wellness
Community Fitness
As guests work toward achieving their individual goals, they are also working together as a community cheering each other on and moving forward together.
In addition to the daily 'board workouts', guests also engage in group fitness activities like walking, running, tennis, basketball, volleyball, hiking, and more.
Nick describes the amazing positive energy he sees in the gym each morning. Just like with recovery, community members are there for each other.
"People support each other and celebrate each other's successes", says Nick. "The energy and motivation in the room during workouts is incredible."
Fitness and Mental Health
Nick describes the changes he sees in guests' mental and emotional health as well.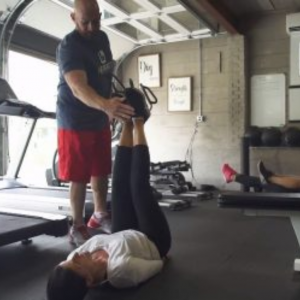 "It's incredible to see the ways fitness has a direct, positive impact on guests' mental and emotional health," he says. "I see their confidence and motivation increase, and symptoms from conditions like depression and anxiety decrease significantly. The light comes back in their eyes. It's amazing to watch how the satisfaction of meeting – and often exceeding – goals fuels and enhances their recovery".

~ Nick C., Personal Trainer and Coach, Herren Wellness
Along with fitness, guests also work on their relationship with nutrition and food. "It's important to me that guests don't become overly focused on food", says Nick, "but rather learn how to have a healthy relationship with it".  He helps guests work healthy nutritional habits into their daily lives with a focus on moderation and balance.
"Like recovery, fitness is a lifestyle change. It's about holistic health and wellness, and gradual, progressive changes over time. This is about building habits that are sustainable for a lifetime. We set realistic expectations based on specific goals. This is about health and wellness for life, not simply for their stay at Herren Wellness."

~ Nick C., Personal Coach and Trainer, Herren Wellness
About Herren Wellness
When you come here, you are immediately connected with a thriving community of people at all stages of their recovery journey. We introduce healthy habits and routines centered around emotional, physical, and spiritual wellness that provide a solid foundation for rediscovering your interests, experiencing joy in sobriety, and building structure and routine.
Your connection to Herren Wellness doesn't end when your stay ends; we are there for you throughout your recovery journey. We provide several alumni support communities, including a weekly recovery support group, monthly alumni meeting, and online alumni community you can access anytime.
If you, or a loved one, are looking for help, please call us at (844) 443-7736, email us at info@herrenwellness.com, or fill out a contact form. You are not alone.