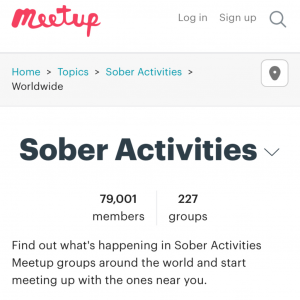 Image: Meetup.com
The Sober Events Movement
Oftentimes when people get sober they think to themselves… Will I ever have fun again?  It is suggested in early recovery to avoid people, places, and things that may be triggering because sobriety is still fresh and fragile.  Connection is essential in recovery, so what are the healthy options for newly sober individuals?
Traditional 12 step programs such as Alcoholics Anonymous, Narcotics Anonymous and SMART Recovery offer a program of recovery within the 12 steps, but also equally importantly a fellowship of like minded people.  These people are a sounding board, support, and healthy friends to "fellowship" with.
Expanding outside of the 12 step rooms, the fellowship gets together in groups to have sober fun before or after a meeting.  This is not invite-only, meeting moderators will announce fellowship events during the meeting for all to participate.  These activities may include dining, hiking, coffee, or a simple gathering to connect and have fun!
Over the past few years, thanks to the internet and social media, the sober event space has been able to span far wider than the 12 step fellowship.  In a previous blog The Rise of The Sober Curious Movement we met Ruby Warrington, an English writer and voice for the sober curious movement.  Along with writing her book, Warrington launched an event company Club Soda (formally Club Soda NYC), whose local mission has grown internationally over the years since inception:
In the last six years, we've grown from a small Facebook group to a global mindful drinking community. With our help, tens of thousands of people around the world have discovered a better life by moderating or quitting drinking. And you can join them.

Everything we do is underpinned by behavior change science and fueled by the power of community. If you want to change your drinking, whether you want to cut down or take a break, we've got an approach that works.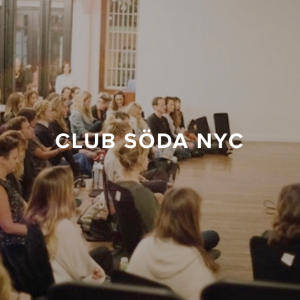 Image: ClubSodaNYC.com
Being a Club Soda member empowers you to choose better alcohol-free drinks, make connections that will help you grow, and discover how to change your drinking, your way. If you want to change your relationship with alcohol for good, you're in the right place.
Club Soda features events across the world offering sober fun with a three pronged approach:
Choice

:

Changing your drinking starts with making better choices. Discover the world of alcohol-free drinks and find a new drink that you'll love.

Connection

:

Connection is the superpower of behavior change. Meet people like you who are cutting down, taking a break or living alcohol-free.

Change

:

Don't let alcohol stop you living well. Whether you want to cut down or stop drinking, our courses empower you to change, your way.
A search on the Club Soda website for events this week yields international trips, skydiving adventures, and an Easter activity: Queers Without Beers featuring mocktails by Mockingbird Spirit.  Participants can enroll and play virtual bingo (costume optional!)
Many groups have followed in Warrington's footsteps: a quick Google search of "sober events near me" yields pages of results on meetup.com.  One group in particular is located near our Herren Wellness MA location, Namastay Sober:
Founded in 2015, following the death of a close friend to opiate addiction, NamaStay Sober was created to build a bridge to community rooted in inclusivity and connection for those in recovery. We focus on the interplay between sobriety, physical activity, community and social connection as central to relapse prevention. The goal is to swap a potentially life-threatening addiction for healthy habits, and to surround yourself with a loving and supportive community who has set a similar intention.
This week alone Namastay Sober (which has gone virtual to adhere to Covid-19 guidelines) is offering four events including: Relaxing yoga with Jason, Mindful Conversation with Marina, Book Club with Christy, and Relaxing Yoga with Allison.
Located near our Herren Wellness location in Warrenton, VA is Booze Free in DC, founded by Laura Silverman of the blog Sobriety Collective.  Silverman started the DC chapter of SansBar, which throws alcohol-free parties and is host to zero proof mixology classes.  After leading the DC chapter of Sansbar, Laura felt inspired to start her own sober event company Booze Free in DC, focused on sober travel to the DC area: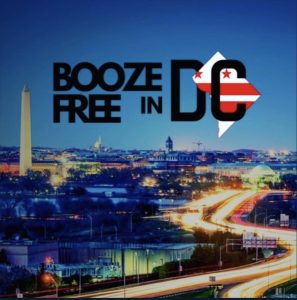 Image Courtesy of @boozefreeindc
My vision is to combine my love of traveling to new places with my passion for sobriety and wellness.  I got sober 13 years ago and things -internally and externally – looked a lot different then. When I pick up a guidebook to a new place and see all things booze — craft beer, wineries, cocktail bars, distilleries, etc. — that can feel really alienating.

 If I feel that way, I know others do too. That's why I've created a digital hub — and soon, a true guide book – for the Washington, D.C. area, my adopted hometown, where travelers and locals alike can have a collective place to discover all that the DMV has to offer from a booze-free lens: food, beverages, things to do, ways to renew the soul.
About Herren Wellness
When you come here, you are immediately connected with a thriving community of people at all stages of their recovery journey. We introduce healthy habits and routines centered around
emotional, physical, and spiritual wellness
that provide a solid foundation for rediscovering your interests, experiencing joy in sobriety, and building structure and routine.
At Herren Wellness we understand the importance of fun and connection in recovery.  While our guests are with us we have weekly outings and events such as basketball, bowling, hiking, and outdoor local events in the Boston/Providence and DC areas.  We also invest in the Herren Wellness Alumni program, which continuously brings our community together through meetings and events (currently virtually to adhere to Covid-19 guidelines).
Recovery is a wide road and the options for sober events is vast thanks to trailblazers such as Ruby Warrington and Laura Silverman.  The sober event movement is just beginning to gain momentum, and will continue growing and expanding the perception around living a sober life.  
If you, or a loved one, are looking for help, please call us at (844) 443-7736, email us at info@herrenwellness.com, or fill out a contact form. You are not alone.