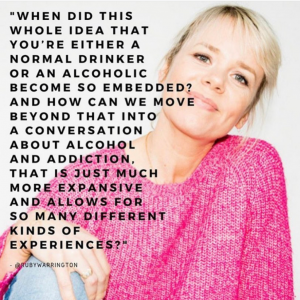 Image courtesy of @rubywarrington
The Rise of the Sober Curious Movement
Is "sober curious" more than just a buzzword?  A quick Google search would suggest so as it is now defined: Being sober-curious means being more intentional about how, when and why you drink. It's a movement for everyone, even those who don't have health- or addiction-related reasons to abstain from alcohol.
Ruby Warrington, a British writer and author of Sober Curious: The Blissful Sleep, Greater Focus, Limitless Presence, and Deep Connection Awaiting Us All on the Other Side of Alcohol, is a pioneer and voice for the sober curious movement.  She encourages people to become mindful about their alcohol use using the following criteria:
Why am I choosing to pick up this drink?

It could be for a seemingly good reason, like wanting to bond with friends, or it could be for a less comfortable reason, like to alleviate anxiety or get your mind off something. Underneath those reasons, there are always more questions, like: Why do I feel like I need alcohol to bond with my friend? What would it be like if I were in this social situation without alcohol? Would we still have much to talk about? Would I still enjoy hanging out with these people?
Why is it expected of me to drink?

You may be experiencing a lot of social pressure to drink. You might ask, Why is it a problem for other people if I don't drink in this situation?
How is this drink going to impact my well-being?

This is not just about how hungover you may feel tomorrow; it's about how drinking now will impact you in the days that follow, too. Ask: How productive will I be? How much clarity am I going to have? How much self-doubt might I have when the alcohol wears off?
Using these questions as a guide, people can decide for themselves whether or not alcohol is working against maintaining optimal well being.  Not only are the sober curious delving into their relationship with alcohol… they are sharing it on social media.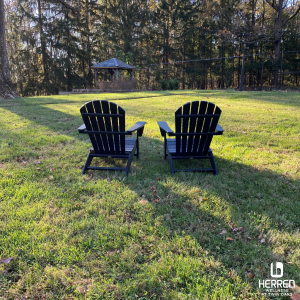 A quick search of the hashtag "sober curious" on Instagram yields over 180,000 posts and over one million posts using hashtag #soberlife.  The audience participating in the sober curious movement on social media is indicative to whom the "trend" may actually stick, according to HuffPost:
"The age groups more likely to remain sober-curious are younger millennials, those ages 23 to 25, and older Gen Z, who are in the age range of 21 to 22. They're the newest to alcohol to begin with, so their habits haven't been in place as long. The newer a behavior is for someone, the more likely they will abandon it during a time of stress."
Millennials and Gen Z'ers have carved a niche on Instragram making way for sobriety influencers who garner 100,000 followers or more, and promote sobriety versus indulging in a party lifestyle.  Since this niche has grown exponentially these groups have created alcohol free events which are in large attendance.   This year the group Sober St. Patrick's Day is celebrating their 10 year anniversary by hosting a worldwide virtual celebration with registration open to all.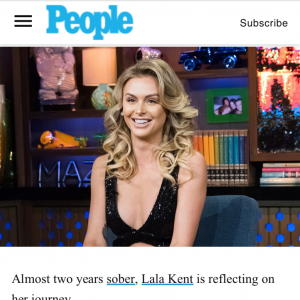 Image courtesy People Magazine
Popular cable network Bravo, which has a target audience of men women ages 18-49, has had "bravolebrities" from their reality shows speak out on their sobriety.  This includes star Lala Kent from hit show Vanderpump Rules.  Kent was depicted in the series as a hard partying girl until she decided mid season, on air, to try sobriety.
Kent was open with her Instagram following of 1.5 million about her sober curiosity.  After 30 days, her perspective changed and she shared the following with fans:
"What my sobriety looks like: I hit a breaking point where I had to identify as an alcoholic or lose everything.  The second I admitted I was powerless over alcohol I knew it was time to put in the work.  I started reading the big book, going to meetings, and worked very hard to never go back to that drunken version of myself.  After 30 days I knew I wanted to feel sober forever, and it was entirely up to me, no one else."
Kent's story brings up a defining and important difference between sober curious and alcoholism.  Some may start their journey into sober curiosity and realize, that in fact, they deal with substance use disorder.
Sober curious may be a luxury or option for some, but for one in eight Americans who deal with alcoholism it is a much more serious and often fatal matter. 
Ruby Warrington elaborates on the difference in Goop article:
"Talking about sobriety as a trend is not OK. The point of sober curious is to differentiate between those of us who have the privilege to be sober curious and perhaps dabble [in alcohol] here and there, and those for whom drinking and alcohol is a mortal danger."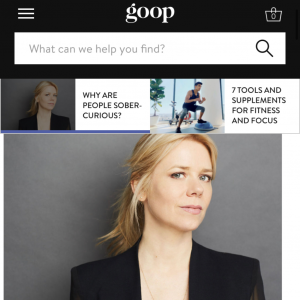 At Herren Wellness we welcome guests who are seeking to live a life in recovery, free from substances and intentionally created a center built around wellness and self discovery.  We are not a "cookie cutter" treatment center, our doors are open to those willing to examine themselves and grow in uncovering the "why" within their individualized wellness plan.
The majority of our staff are in recovery themselves, and along with our licensed life coaches, we work with guests to answer the most important questions preventing them from living a substance-free life.  Through the journey of self discovery we walk with each guest, at their pace, providing guidance and the support needed to recover.
If you or anyone you love is struggling with substance use or emotional health at any stage, please reach out to us.  We would love to welcome you or a loved one as a guest at Herren Wellness.
About Herren Wellness
When you come here, you are immediately connected with a thriving community of people at all stages of their recovery journey. We introduce healthy habits and routines centered around emotional, physical, and spiritual wellness that provide a solid foundation for rediscovering your interests, experiencing joy in sobriety, and building structure and routine.
We provide several alumni support communities, including a weekly recovery support group, monthly alumni meeting, and online alumni community you can access anytime. Your connection to Herren Wellness doesn't end when your stay ends; we are there for you throughout your recovery journey.
If you, or a loved one, are looking for help, please call us at (844) 443-7736, email us at info@herrenwellness.com, or fill out a contact form. You are not alone.