We talk a lot about the importance of community at Herren Wellness, because we know that nearly everyone begins their recovery journey through connection with and support from someone who has walked the path before them and reaches out to help.
Larry Perrulli was the Director at the Daytop facility where Chris completed an inpatient program, and took the first step on his recovery journey.  Larry and his wife Liz visited Chris at Herren Wellness the day before Chris' 11th sobriety anniversary, and Larry shared his own recovery journey with the Herren Wellness community.
In his memoir Basketball Junkie Chris describes his first time meeting Larry, when he and his wife Heather arrived at Daytop all those years ago: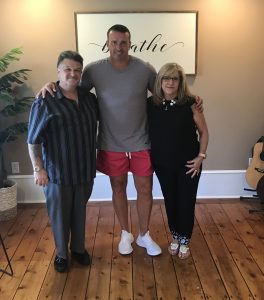 Rhinebeck, New York, is a small, artsy town in the Catskills. When we arrived, there were guys with shovels and rakes outside, all working. The blue building looked like an old elementary school. It was mostly one floor, but part of it had a second floor, too. A man named Larry came out to meet the car. He was a little Italian guy, mid-fifties, a Joe Pesci type. Heather and I started to get out of the car.

'Where are you going?' he said to her.

"She's going to come in for a few minutes," I said.

"No she isn't," he said. "Give her a hug. She's got to go."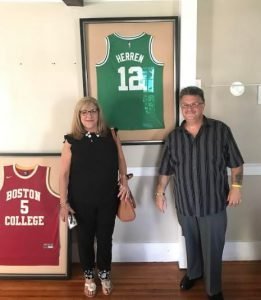 Chris was one of only two "volunteers" at Daytop, a therapuetic community with a tough love approach. After a failed home visit to watch the birth of his son, Chris returned to Daytop and Larry went on to say something to Chris that was pivotal in his decision to embrace a life of sobriety. Chris describes this moment in his memoir and recounts it often when he speaks nationwide:
[Larry] said, "Why don't you do the only noble thing you've ever done and get away from your kids? Do them a favor and get the f*ck out of their lives. Because you are like a ball and chain around their necks and they'll be better off without you. They'll be better off with any stepdad they end up with rather than you. Give them a break and get as far away from them as possible. Do them a favor and get out of their lives, because with you in their lives they have no f*ckin' shot."

I believed him.
After hearing those words, Chris went back to his room, dropped to his knees and began to pray. That date was August 1, 2008, his sobriety date.
Fast forward 11 years. Larry and Chris are together again, sitting in a meeting with the guests at Herren Wellness, sharing stories and their recovery journeys. This is what recovery is all about – giving what was freely given to you to others, and being that helping hand that reaches out.
We asked Larry what it was like to come to Herren Wellness, see Chris, and speak with the community:
"It was important for me to come because I have such tremendous respect for what Chris is doing here at Herren Wellness, and of course to celebrate his 11 years of recovery. I've been watching and following the work he has been doing with youth, with the kids, and he's such a charismatic, humble, and elegant speaker I wanted to come here to see Herren Wellness and give a little back myself because maybe my experience can help someone else as well. It's really my privilege to come here and share my story hoping that somebody will hear something that helps."

~ Larry Perrulli
Chris also talked about what his relationship with Larry has meant to him over the years:
"Words can't really describe it, how I walked into Daytop 11 years ago, beaten, empty and hopeless, and Larry and his staff were instrumental in building me up again. They gave me a place to land, and find my way. It's amazing to sit here years later with Larry. It's really special.  He will always be special to me. Larry and his wife are mentors to me, and always will be.
Daytop gave me my start, and allowed me to restart. I will forever be grateful for that. To go back there and face the community there after relapsing, most guys would have told me to move on. If it wasn't for that second chance, I don't think we'd be here celebrating today. The people that helped me at Daytop will forever live in my heart. Without those people in my life, who knows where I'd be today. I'm unbelievably honored that Larry is here today, not only to share with me, but to share with the people of Herren Wellness."

We're just two brothers making our way, and giving it away."

~ Chris Herren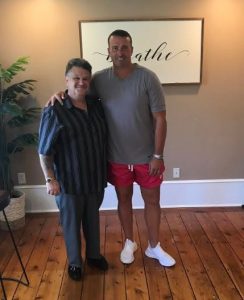 Herren Wellness Can Help
We understand that recovery – from anything – is a difficult time full of a range of emotions. We work with guests to create a whole-health action management plan, allowing them to discover and explore many opportunities in recovery.
We help foster healthy habits and routines, including nutrition, fitness, sleep hygiene, creative exercises, and group activities that allow guests to reconnect with the things they love or discover new interests. We guide guests on how to build upon the skills they already possess and help them discover their 'why', or what motivates them to maintain a life of wellness and recovery.
We also work with guests to create a meaningful and sustainable aftercare plan that includes healthy habits and routines that are meaningful to them. When you come to Herren Wellness, you become part of a vibrant and thriving community that doesn't end when your stay ends. You become part of the Herren Wellness family.
If you or a loved one are struggling with substance use, we can help. Call us at (844) 443-7736, email us at info@herrenwellness.com, or fill out our contact form.  You are not alone.