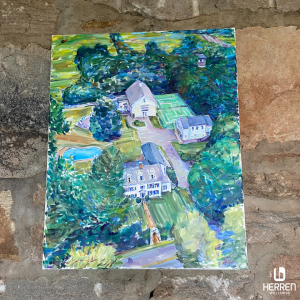 Creativity and Joy in Sobriety
When people embark on recovery at Herren Wellness it is a unique journey with individual revelations.  One revelation often experienced by our guests is how creativity blossoms in early recovery.
One of our guests Brian has tapped into his creativity while at Herren Wellness composing videos using drone and Go Pro technology.  We have featured his videos on our social media, and I wanted to sit down to get a better understanding of how his creative process has unfolded in recovery.
Were you able to be as creative as you are now when you were drinking?
No, prior to now, things were much foggier in my head.  After arriving here to Herren Wellness I could definitely notice that my mind was much clearer.  This new "sharpness" has made it easier to come up with new ideas and the editing aspect of it all is much smoother.
When did you decide to start using your camera and drone to create all these amazing videos?
I have always loved to take pictures and videos for as long as I can remember.  From an early age I could remember always having a still shot camera on me or in the case of the videos, I would have a SONY HandyCam that later became the GoPro.  It wasn't until about six or seven years ago that I picked up my first drone and I was instantly hooked.
Has Herren Wellness helped to spark your creativity?
Yes, most of the people here are so interesting and the fact that they are genuinely excited about being in the videos, it makes it very easy to have the ability to get little mini movies created.  In addition to that, both the "in house" and "off campus" activities that take place here at Herren allow for some fun things to capture.
When you are filming and taking photos, how do you feel?
I feel happy and excited about the possibilities of how I think the final creation will look.  It's something that I really enjoy doing and always have.  It just makes me feel good all the way around, especially doing it here being sober.
What has been the coolest moment for you since starting this creative project at Herren Wellness?
By far the coolest thing that has happened is helping teach a younger guest how to edit and cut videos along with me.  He has really caught on, and we have built a friendship through this.  His mother actually called me the other day to thank me for teaching her son because it has opened him up so much, and made him excited about being at Herren Wellness.  It's been a huge gift in this way for me. 
Brian is an example of one of the great gifts of recovery: the freedom to explore and get back to our creative spirit.
Creative experience enhances and heals us in several important ways, including:
Work Through Shame
: Early recovery brings with it a lot of strong emotions, and they can feel difficult to navigate at times. Creative outlets provide a powerful way to express feelings in new and enlightening ways, especially when words are hard to find or communicate.
Regulate Emotions
: Studies have shown that creative outlets help not only express but also regulate emotion. Even the act of listening to and appreciating music reduces stress, enhances connection, and nurtures healing.
Healthy Ways to 'Lose Yourself'
: In early recovery, there can be a feeling of restlessness about how to fill time and escape in healthy ways. The absence of drugs and/or alcohol can feel like it leaves us with time to fill, which can create feelings of loss and apprehension. Boredom is a common trigger, especially in early recovery. Exploring creativity is a way to rest a busy mind, and pass time in a healthy, self-affirming, and positive ways.
Process Trauma and Loss
: Working through trauma and/or loss is often a part of early recovery, as many people turn to substance(s) to avoid difficult feelings – otherwise known as self-medicating. In addition to individual and group therapy, creativity has been proven to help people process and express these difficult emotions in healthy, productive ways.
Connect with Joy
: Substances dull our ability to experience feelings of joy naturally, and in early recovery, it takes time to build back the ability to release organic feelings of happiness, joy, and a sense of purpose.  Creativity allows us to build back that 'muscle' faster by creating just for the sake of creating.
We are so grateful to care for Brian at Herren Wellness, it's a joy for us to witness his spirit light up pursuing his creative endeavor.  Brian's enthusiasm for his creativity has created a widespread effect in the community and sparked creativity in others. 
Recently, guests have expressed their creativity through different unique outlets:
Each week we offer arts and crafts groups and guest's have produced beautiful works of art through paint and pottery

Stephanie, the Herren Wellness dietician, has included guests in her cooking demos where they learn to make healthy versions of their favorite foods
and how these foods impact their bodies and minds
In the colder months guests created snowman building competitions where each snowman has its unique characteristics

At Herren Wellness Twin Oaks guests have formed a Big Book workshop where they go through the literature together and discuss ideas
In Friday's Game Night guest's become very creative and competitive during Pictionary and Charades to try and get that "win"
At Herren Wellness we provide as many opportunities as possible to our guests to connect with their creativity.  We believe that it is an important part of the healing process, and allows guests to do something in recovery that brings them joy. 
If you or anyone you love is struggling with substance use or emotional health at any stage, please reach out to us.  We would love to welcome you or a loved one as a guest at Herren Wellness.
About Herren Wellness
When you come here, you are immediately connected with a thriving community of people at all stages of their recovery journey. We introduce healthy habits and routines centered around
emotional, physical, and spiritual wellness
that provide a solid foundation for rediscovering your interests, experiencing joy in sobriety, and building structure and routine.
We provide several
alumni support communities
, including a weekly recovery support group, monthly alumni meeting, and online alumni community you can access anytime. Your connection to Herren Wellness doesn't end when your stay ends; we are there for you throughout your recovery journey.
If you, or a loved one, are looking for help, please call us at (844) 443-7736, email us at info@herrenwellness.com, or fill out a contact form. You are not alone.