Image Courtesy of @TheLuckiestClub
The Rise of Online Sober Communities
12-Step programs are centered around common purpose, in person meetings, and fellowship.  When COVID-19 hit all of this was shut down and moved to Zoom which members of the sober community quickly adapted to.
Prior to the Pandemic the rise of alternative 12-Step sober communities were growing rapidly online, primarily through social media. With the shift of 12-Step meetings online, this left out a large group of people in recovery who do not subscribe to 12-Step, rather utilize different programs that resonate with them.
Over the past year many sober communities began offering online meetings and their communities grew exponentially.  In this blog we will dive into a few of these communities born out of need in 2020, and what they are all about.
Emily Paulson, founder of Sober Mom Squad had a robust following prior to COVID, but as the pandemic began to spread she heard from her followers about how they needed a place to "go" because the stress was causing an increase in drinking behavior.  Emily launched her first meeting which had 600 attendees, and from there it grew into a full-blown community and company.
"This group was started during the COVID pandemic from an instagram post by the founder, Emily Lynn Paulson, asking how she could be of service to her audience. Jen Elizabeth, Michelle Smith, Celeste Yvonne and Jessica Landon immediately answered the call, and the Sober Mom Squad was born! As mothers, we need to connect, share experiences, share expertise, hear stories, and tell our own.  We need to know that we are not alone, and we need to feel that we are in a safe environment away from judgement and stigma. So, we started hosting a weekly free virtual meeting over zoom, discussing all things motherhood, the trials of suddenly homeschooling, the new dynamics of home life, and doing it all without "mommy juice."
Sober Mom Sqaud offers virtual meet-ups, writing workshops, and even a Sober Mom School which provides mentorship and expert webinars.  Here are what some members are saying:
"I've been alcohol free for a couple. of months now, and SMS has been so encouraging. It was the piece that was missing for me!"
-Lindsay H

"I have gained so much encouragement from listening to the hosts and following their content! Community is everything, and this community is really special"
-Jen A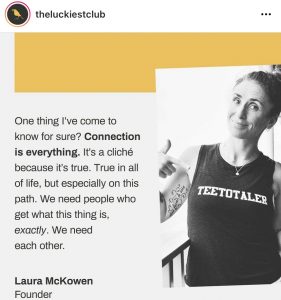 Image Courtesy of @Theluckiestclub
I have followed Laura Mckowen for years when I was tipped off to her podcast with Holly Whitaker in my early sobriety.  She has gained thousands of followers over the past five years and released a book in 2019: We Are The Luckiest: The Surprising Magic of a Sober Life.  She was riding the wave of her book tour, able to meet her following face to face, when COVID hit.  Similarly to Emily, Laura had the inclination to start holding a meeting each day for her community that was not 12-Step orientated.
The community continued to grow and due to demand Laura brought on more meeting moderators and added meetings throughout the day.
The Luckiest Club has a unique mission:
"The hard good news. These nine things are the heart of The Luckiest Club. Before this good news feels good, it's gonna hurt—and we'll be here while it works its way through you, for you, and eventually becomes your own."
It is not your fault
It is your responsibility
It is unfair that this is your thing
This is your thing
This will never stop being your thing until you face it
You can't do it alone
Only you can do it
You are loved
I will never stop reminding you of these things
Many have credited their sobriety to Mckowen and The Luckiest Club:
"TLC is everything and exactly what I was missing. Community, wisdom, support, and humor. It took me almost 3 years to get sobriety to stick and looking back I realize the missing piece was connection."
Ashley S. — Kansas

"This community is beautiful. I've been sober close to 8 years and was yearning for something but didn't know what that was. Thank you for letting me land softly in this new TLC home."
Lisa D. — Missouri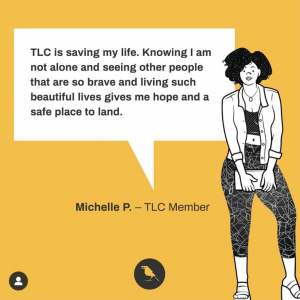 Image courtesy of @Theluckiestclub
Reddit is an uncommon place to find a sober community… however the need in 2020 surpassed all existing norms.  Enter r/Redditors in Recovery: "A place for Redditors in recovery to hang out, share experiences, and support each other. Discuss the various ways to achieve and maintain a life free from active addiction. Everyone is welcome.".
The forum was established in 2009, however it wasn't until 2020 when they reached their following of 40K.  Threads in this group focus on topics such as triggers, recovery from sex addiction, how to bounce back back after a relapse, and much more.  There are always active users on the site so members can vent and get real time feedback:
"I just joined this subreddit and would like to say it's nice to be here! It's always great to have people who have the same mindset as me. I've had recovery time a few times before but have always fell down. But I got myself back on my feet again and celebrate 30 days today!!! It feels great."   -Annonymous
Comments were both understanding and congratulatory… "awesome job, keep going!"  "We are here for you!"
How do I move past this? "Hey guys, I'm 28 years old, I started using heroin when I was 20 years old. I have been clean off of everything on various occasions. The longest was for 3 years 4 months, but a part of me always knew I would use again. I have a terrible time dealing with social anxiety. I feel awkward around everyone. I don't like talking to people I don't know, I avoid going places and doing things that I need to do if it makes me too uncomfortable. And I have no idea how to push past it, it truly feels impossible. When I was clean I was doing AA, and there were tons of aspects of my life that improved, I know it works. But as someone who hates groups of people, I feel stuck. I just don't know what to do. I have over a month clean again, but it doesn't feel sustainable. If I don't change, I know it will come back one day. AA/NA seems to be oriented towards extroverts. I've been to probably around 1,000 meetings, I continue to try to be open minded. But it's been 8 years and I'm still here. Has anyone else had struggles like this? How do you move past it?"    -Annonymous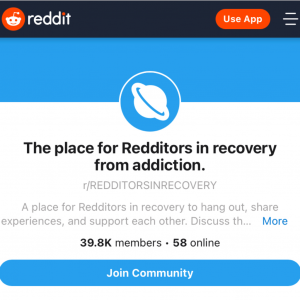 Image Courtesy of r/RedditorsinRecovery
A member of the community addressed the post swiftly:
I'm a total introvert. I enjoy being alone and I work in a restaurant. Yes I totally relate, and yes I feel AA is geared towards extroverts. Everyone told me I would relapse if I didn't go to meetings. It's not true, I have 8 years sober now. I NEED time away from people to recharge, create, meditate and just have leisure time. Work took away a lot of my energy since I was ALWAYS around people forced to talk and engage. I don't have social anxiety anymore. I just honestly need a break from human beings, and don't want to socialize in a meeting. Do whatever it is you need to do, to be spiritually centered. There are many paths up the same mountain. -Annonymous
At Herren Wellness we offer our guests multiple programs to recovery including 12-Step, SMART recovery and Refuge Recovery.  We believe that recovery is a wide road and there are many different paths.  The most important aspect on whatever recovery journey one chooses is the common link of community and connection.
This is why, at Herren Wellness, we focus on our Alumni program.  Once our guests are ready to take the next step in their recovery journey they are immediately connected with our thriving alumni group, including online meetings, recovery coaching and virtual workouts in the times of COVID.
"Every Separation you make from a person or place that can not meet you where you stand is a step towards the community of your true belonging."  -Tokopa Turner
If you or anyone you know is struggling and needs a community, we are here.
About Herren Wellness
When you come here, you are immediately connected with a thriving community of people at all stages of their recovery journey. We introduce healthy habits and routines centered around emotional, physical, and spiritual wellness that provide a solid foundation for rediscovering your interests, experiencing joy in sobriety, and building structure and routine.
We provide several alumni support communities, including a weekly recovery support group, monthly alumni meeting, and online alumni community you can access anytime. Your connection to Herren Wellness doesn't end when your stay ends; we are there for you throughout your recovery journey.
If you, or a loved one, are looking for help, please call us at (844) 443-7736, email us at info@herrenwellness.com, or fill out a contact form. You are not alone.