Mommy Wine Culture
On a recent afternoon trip to Target I headed to the women's section for some new workout t-shirts.  I walked up to a shelf with piles of shirts neatly folded in rows and pulled the top T's up to see the slogans: "Good Vibes Only" "Namaste" "Def Leopard" "Mommy Needs Wine".  I held the last shirt up and stared for a moment.  
As a sober mom I realized I see and hear this saying on an article of clothing, on social media, TV, and in conversation every single day.  I heard some kids whining behind me and turned to see their mom scrambling to get them to the register… in a sweater that read "Almost Wine O'Clock."  So this blog post was begging to be written.
If you pop on to social media you do not need to look far to be bombarded by mommy wine culture:
However, the Mommy Needs Wine movement has only truly ramped up in the past five to seven years… so this data conducting a study between 2006-2018 may be missing this shift.  Just in the past two years, the acceptance of the Mommy Wine Culture in our society has caught the attention of mainstream media including Good Morning America, USA Today, the Washington Post, Nightline and The New York Times.  
"Big Alcohol" companies put millions into advertising and targeting women (and mothers)… but now it has taken on a role in our society through outlets on social media including TikTok and Instagram, wine is now seen and accepted as a reward for motherhood.  It gives mother's permission to open a bottle because they deserve it.  Connection for humans, and particularly mothers who feel isolated at home with children, is crucial.  Does connection with moms and motherhood need to involve the ritual of wine to have fun?
What's more… when a mom does not partake she feels the need to defend her choice on normal outings with fellow parents.  A sober mom wrote an Op-ed for The Washington Post describing her experience:
I went to a play date the other day at a new preschool-friend's house, wrestling my 5- and 3-year-old boys through the big doors of a strange new home. Almost the moment I stepped through the front door, the mom giggled "mimosa time!" and my body froze up. I wasn't prepared for this.

As a relative newbie to sobriety, I've learned that preparation is key. Most times, when I'm heading to a social gathering, I have time to prepare mentally, physically (I always bring a drink with me) and emotionally.

I think about what I will say when someone asks why I'm not drinking. I think about how deep I want to get in the conversation, because some days I'm ready to go there, and other days I want to talk about anything but that.

This day, I was caught off guard. As I watched the host mom try to pop open the champagne with a towel, I almost said "yes" and thought about just pretending to sip it. Instead, I said, "Not right now, I'm good thank you," and the conversation veered to something else.  But it came up again about 15 minutes later. And again another 15 minutes later. And I was practically banging my head against the wall thinking, "Why don't I just tell her I don't drink?"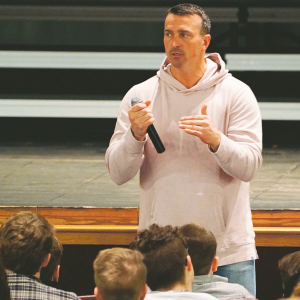 The implications of Mommy Wine culture are far too great to not speak up about.  For many moms, the social and personal ideologies around drinking have been altered and for some may result in substance use disorder.

Our founder Chis Herren travels all around the country speaking in communities and schools about prevention.  He consistently draws attention to the fact that no one knows if they have Substance Use Disorder, until they make the decision to try alcohol, marijuana or a drug. 
Although some may walk away, others experience pain and consequences that can last years and impact everyone around them.  The effects of mom wine culture and the impact of other SUD's can be seen in the faces of these kids nationwide who nod and identify with Chris sharing his experience.
At Herren Wellness we see first-hand the impact of mom wine culture everyday…perhaps we are hyper aware, but I would argue we are just paying attention.
If you or someone you know if struggling please reach out to us, we are here for you.
About Herren Wellness
When you come here, you are immediately connected with a thriving community of people at all stages of their recovery journey. We introduce healthy habits and routines centered around emotional, physical, and spiritual wellness that provide a solid foundation for rediscovering your interests, experiencing joy in sobriety, and building structure and routine.
We provide several alumni support communities, including a weekly recovery support group, monthly alumni meeting, and online alumni community you can access anytime. Your connection to Herren Wellness doesn't end when your stay ends; we are there for you throughout your recovery journey.
If you, or a loved one, are looking for help, please call us at (844) 443-7736, email us at info@herrenwellness.com, or fill out a contact form. You are not alone.