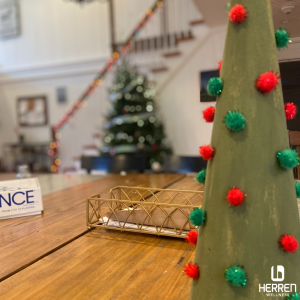 As this year draws to a close, people will be gathering with friends and family (safely) to celebrate the holidays and New Years.  The good news for those of us in recovery… Thanks to the booming non-alcoholic drink industry, there are many options for filling our champagne glasses and toasting.
In the past celebrations weren't fully inclusive for the sober community, with very limited beverage options.  Today, the non alcoholic industry will reach $16.65 billion by the end of year and $1.6 trillion by 2026.  A whole world has opened up to the recovery community with zero proof cocktails thoughtfully crafted for non-drinker enjoyment.
In this blog we take a look at who is driving this movement and what has inspired the industry.
The Non Alcoholic Drink Industry
According to The New York Times, the nonalcoholic beverage market is going to be worth an estimated $1.6 trillion by 2026.  In cities across the country non alcoholic bottle shops are popping up each month, Danny Frounfelkner of Texas bottle shop SIPPLE:
"When we opened SIPPLE, the first non-alcoholic bottle shop in Texas, we thought it would take time to take off.  We had no idea the demand we would see from people in their early 20s to mid-70s. Our opening weekend was packed and people are so grateful that a shop like ours exists." (Source)
Interestingly, the primary drivers of the non alcoholic drink industry are millennials accounting for 42% of revenue.  Numbers show that this is not a fad, rather a movement inspired by a desire for wellness and a healthier lifestyle.  Millennials are shown to be more mindful about what they are putting into their bodies and also the importance of connection in the age of COVID-19.  With so much separation with the use of screens for work and social media, people are hungry for genuine in person connection.  Millennials have started to tap into the non-alcoholic market by socializing without alcohol, remaining present and alert for their interactions with peers.  Mental health has also become a larger talking point and the effect that alcohol has on mental health is being taken into account by millennials, concerned about alcohol's impact on their mood, level of alertness, and even their image on social media.  These consumers want to be responsible and mindful of themselves and others.
Recently actress Blake Lively made headlines in an interview with Today:
"I don't drink because I don't like the effects of alcohol, but I like being social,"

-Blake Lively
Lively has decided to go into the non-alcoholic beverage industry with her own brand Betty Buzz.  In her brand she includes mixes that stand on their own, no alcohol necessary, and also accessories to make drinks fun such as glasses, candied rims, and dried flowers.  She believes that the experience of having a non-alcoholic drink should be enjoyed just the same as the alternative.  When creating the brand she took into account her own journey as a non drinker living in New York City.  When she would go out with the cast of her hit show, there was only one bar where she could get a decent mocktail.  Fast forward to today, and most bars offer something on the mocktail menu, and people are willing to spend on these drinks.  Having Blake Lively come out in this interview as a "face" for the non alcoholic beverage movement is significant because it creates more awareness of the industry, and that people have the choice to drink alcohol or not… and if they choose not to, the options are vast.
Brands to Try 
Curious Elixirs are booze-free craft cocktails, infused with adaptogens to help you unwind. Our beverages are handmade with the best ingredients and no refined sugar.  Each flavor is bold and crafted for the adventurous, the flavor is a collaboration between the team of world-class bartenders, herbalists, and food scientists, and uses only organic juices, herbs, spices, roots, barks, and botanicals.  The NA craft cocktails can be bought separately, or can be purchased by subscription where a mix is received each month.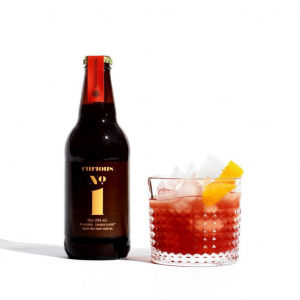 Image courtesy of Curious Elixirs
Hella Cocktail is a refreshing brand of spritzers and mixers that are easily available at Whole Foods and on Amazon.  Bitters & Soda is a premium sparkling non-alcoholic apéritif that gets its smart, refreshing flavor from a Gentian tincture cultivated in the South of France.  Bitters & soda is a great place to start for those new to the non-alcoholic drink market.
Tost beverages produces two products, their original Tost sparkling and the newer Tost Rose and these drinks have a huge fan base.  Tost was created with a mission where everyone can celebrate their moments positively and inclusively.  The zero proof bubbly is made with the finest ingredients and is not too sweet, so the consumer feels sophisticated when swirling it around in a glass.  Tost can be found at Whole Foods and on Amazon.
Impact on the Recovery Community 
The impact of the non-alcoholic drink movement on the recovery community is a welcome change.  In the past when a person in recovery went to a gathering at a bar, or a work party, the only NA option was O'Douls (if that was even carried).  While some enjoy the taste, others prefer not to drink something that is meant to taste like alcohol…especially when trying to live life in sobriety.  The emergence of all the non-alcoholic brands and options have opened up a new world for those in recovery which simply did not exist before.  The NA industry has not only brought back the fun of trying new drinks, but it has made the sober community feel included and thought of.  What was once only seltzer in hand has turned into a delicious mocktail in a fancy glass rimmed with salt… Now the recovery community can feel truly a part of a celebration.  It is important that when people make the life altering decision not to drink that they are met with options, because often it can feel as if life is over (particularly in the beginning).  The non-alcoholic market has filled a gap for many people in recovery.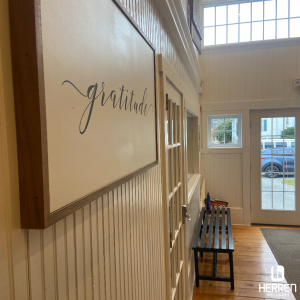 At Herren Wellness we believe in providing guests with all tools available to help recovery, both clinical and holistic.  With many staff at Herren Wellness being in recovery ourselves, we are able to show guests what is possible living a life in sobriety.  Making the brave decision to stop drinking should be met with support, understanding, and options.  We know first-hand that life is full and rich in recovery.  Cheers.
About Herren Wellness
Herren Wellness is a thriving community of people at all stages of their recovery journey. We introduce healthy habits and routines centered around emotional, physical, and spiritual wellness that provide a solid foundation for rediscovering your interests, experiencing joy in sobriety, and building structure and routine.
We provide several alumni support communities, including a weekly recovery support group, monthly alumni meeting, and online alumni community you can access anytime. Your connection to Herren Wellness doesn't end when your stay ends; we are there for you throughout your recovery journey.
If you, or a loved one, are looking for help, please call us at (844) 443-7736, email us at info@herrenwellness.com, or fill out a contact form. You are not alone.