Image courtesy of @themocktailproject
The Mocktail Revolution
Mocktails are having a moment.  According to surveys 40% of restaurants now feature mocktail options on their menus.  So what's the deal with this trend?
Driven by an increased interest in wellness and the expanding selection of no-ABV beverages, 58% of consumers are drinking more non-alcoholic beverages than last year while 61% of consumers want better choices when it comes to non alcoholic drinks.
At Herren Wellness we encourage our alumni to live life to the fullest in their recovery, and that may include partaking in the mocktail movement, to make healthy choices for themselves while also not feeling like they are missing out or deprived. 
In this blog we highlight growing mocktail brands and recipes that you can order and make yourself… and feel good about!
Curious Elixirs motto is "shaken not slurred".  This non alcoholic craft cocktail company curates bottled mocktails for their customers to enjoy.  What sets them apart is that you can subscribe to their monthly mocktail program where 8-12 bottled mocktails are delivered each month.  
How to Enjoy: Curious Elixirs are ready-to-drink, no mixer needed. Each elixir is best enjoyed chilled and garnished, so pop those bottles in the fridge when you receive your box.  
Figlia is a company with a personal mission, founder Lily Geiger created the non alcoholic beverage from her experience of seeing her father pass away from alcoholism, and a desire to create a community that is open to all: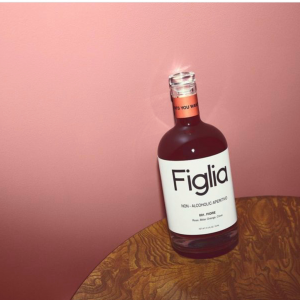 Image courtesy of @drinkfiglia
"Everyone has a different relationship with drinking. I, myself, enjoy a glass of wine from time to time, but as I've gotten older I've found that it doesn't make me feel that good anymore. In fact, I find that I like not drinking even better. But not drinking is still seen as different. Non-drinkers are still seen as outsiders. Non-alcoholic beverages are, more often than not, left on the back page of the menu." 
How to Enjoy:
Figlia can be enjoyed on its own or in mocktail recipes found on their site including:
Out of Office:
Agave syrup by mixing 1/4 cup of light agave, 1/4 cup of hot water and 10 mint leaves. Stir to combine and steep for 5 minutes.
Strain out the mint leaves.
Pour lemon juice, blood orange juice, quality tonic and Figlia into a tall glass and fill with ice.
Garnish with mint. Mint agave syrup can be refrigerated for up to one week.
Image courtesy of @seedlip_na
Seedlip
Seedlip is one of the fastest growing non-alcoholic drink companies.  Only four years old, the brand has grown internationally mostly due to their care taken in distilling their crafted beverage.
Founder Ben Branson sought to create a beverage that incorporated an age old belief  to distill herbal remedies using copper stills, harnessing the power of nature & alchemy to solve medical maladies. 
The result is three masterful non alcoholic beverages including:
Seedlip Grove 42: Citrus Blend
Seedlip Spice 94: Aromatic blend
Seedlip Garden 108: Herbal blend
How to Enjoy:
Seedlip can be enjoyed with sparkling or tonic water or in a variety of recipes found on their website:
Spice Hibiscus Margarita
Seedlip Spice 94: 2 oz
Agave Syrup: ½ oz
Hibiscus Tea: 1 oz
Fresh Lime Juice: ¼ oz  Glass & Garnish
                Rocks, Spiced Sugar-Salt rim, Star Anise
Whether sober, sober curious, or neither, the mocktail trend is inclusive and open to all.  Now, when someone chooses not to drink alcohol, they are not restricted to seltzer water or soft drinks, the possibilities are endless with innovative and sophisticated mocktail options. 
The mocktail trend is an example of how progressive society has become towards non drinkers.  In a Thrillist review of a mocktail brand they surmised:
"At a time when health is at the forefront of many minds, mocktails* are filling a necessary gap in the cocktail market by catering to a group that was previously an afterthought. The "spirit" certainly makes for a great cocktail, but the fact that this nonalcoholic beverage was made with the same care as a craft gin is the best part".
Bartenders are becoming accustomed to creating craft mocktails and companies make it easy to enjoy and create from the comfort of your home.
So let's raise a glass to health, sobriety, and drinks that make us feel good about our choices. 
About Herren Wellness
When you come here, you are immediately connected with a thriving community of people at all stages of their recovery journey. We introduce healthy habits and routines centered around emotional, physical, and spiritual wellness that provide a solid foundation for rediscovering your interests, experiencing joy in sobriety, and building structure and routine.
We provide several alumni support communities, including a weekly recovery support group, monthly alumni meeting, and online alumni community you can access anytime. Your connection to Herren Wellness doesn't end when your stay ends; we are there for you throughout your recovery journey.
If you, or a loved one, are looking for help, please call us at (844) 443-7736, email us at info@herrenwellness.com, or fill out a contact form. You are not alone.