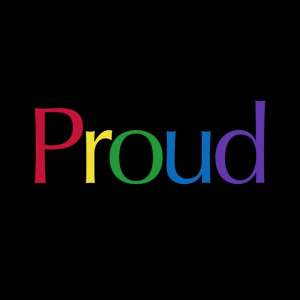 Image courtesy of @morejoy
At Herren Wellness we believe sobriety is inclusive to all, and it is especially important to support the LGBTQ+ population, which according to studies suffers from substance use disorder at a rate of 30%, while the general population is 9%. 
"Formative experiences of shame and stigma contribute to symptoms of depression, anxiety, trauma, and substance abuse," says Jeremy Ortman, licensed mental health counselor and founder of Real Talk Therapy.
Historically, the queer community would gather at gay nightclubs and bars, but with the rise of the queer sober community, where can they go that is a safe space and be surrounded by people who understand?
Previous Guest Molly sat down with us to discuss her thoughts on coming out as an alcoholic and identifying as queer:
"I think that coming into sobriety was difficult for me because I was battling two different things.  Before acknowledging that I needed help there was a lot of self hate because I didn't know where I fit into the world… I did not necessarily identify with "lesbian" and I didn't like the title "alcoholic".  Coming into sobriety I had to face the inner turmoil of who do I love and are substances harming me? I didn't have a gay community nor did I have a sober community.

Providence is an LGBTQ+ forward city, but the options for gatherings for sober and queer are very limited.  I wish there were a place I could go to meet people who are not only addicts/alcoholics but also are in the LGBTQ+ community.  I need and want more gay friends… the same as addicts understsand addicts, gay people understand each other.  I would really love more options and resources." 
In this blog we provide resources including meetups, online recovery meetings, and sober spaces for members of the LGBTQ+ community who are seeking a sober community. 
Events

 
Queeret is a movement by and for queer introverts. Queeret is a portmanteau of social gatherings that are queer, quiet, & sober.  The qalm gathering is a two-hour, cozy, reflective, easy-on-the-senses event, slower-paced atmospheres where people create connection without alcohol.
While currently based in NYC, Queeret is expanding to cities across the US.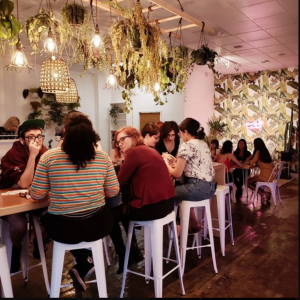 Image courtesy of @queeret
Queer Sober Social (QSS) is an inclusive social group for LGBTQ+ folks seeking authentic queer sober connections.
Virtual Queer Sober Social hosted by QSS:
Every other Wednesday @ 6:00pm CST and every other Saturday @ 2:00pm CST  meet sober queer friends in the community at a super low-key weekly socials on Zoom.
Queers Without Beers is an alcohol-free LGBTQ+ monthly social. Supported by Club Soda ( https://joinclubsoda.com/ ) and organized by the LGBT Foundation ( https://lgbt.foundation/ ).
Everyone is welcome – whether you have never drunk, don't want alcohol tonight, are looking to change your drinking habits, or have actively quit drinking.
Online Recovery Meetings
What started as a private group on Facebook called Gay & Sober Men in the summer of 2009, Gay & Sober has mushroomed into what is now the largest recovery group of its kind on social media. Gay & Sober has expanded to offer nightly online meetings, monthly free LGBTQ community programming, a conference, and an official component in national pride festivities. Gay & Sober, the umbrella nonprofit organization that operates and oversees the conference holds regular meetings of AA, and is a part of the fellowship – however the group we welcomes and embraces members and friends from all fellowships.
"Queer" AA
While not officially sanctioned by Alcoholics Anonymous, the queer community has established thousands of in person meetings and online specifically for LGBTQ+.
"Queer AA is about making AA more accessible to queer and trans folks while not watering down AA's messages about recovery, explains A.S., who lives in Somerville, Massachusetts, and has been sober for five years and has helped start queer meetings in their area."
A list of Queer AA in person and virtual meetings can be found here.
Sober Spaces
Sober spaces such as coffee shops, bookstores, and sober pride spots are popping up all over the US and Canada, providing a safe and sober space for the LGBTQ+ community to gather.  A quick search of spaces in your area will likely yield results, some of these establishments include:
Cuties Coffee Shop East Hollywood, CA
Queer Chocolatier Muncie, Indiana
Ori Gallery Portalnd, OR
The Hangout DC Washington, DC
The LGBTQ+ community is susceptible to higher rates of substance use disorders, however the resources available to meet the needs of this community are still not enough.  As of 2019 we have started to see a rise in care and groups focused on supporting this population, and with continued funding and awareness this is expected to grow in the coming years.
While there is still work to be done to make recovery inclusive to all, we hope providing these resources is a start.
About Herren Wellness
When you come here, you are immediately connected with a thriving community of people at all stages of their recovery journey. We introduce healthy habits and routines centered around emotional, physical, and spiritual wellness that provide a solid foundation for rediscovering your interests, experiencing joy in sobriety, and building structure and routine.
We provide several alumni support communities, including a weekly recovery support group, monthly alumni meeting, and online alumni community you can access anytime. Your connection to Herren Wellness doesn't end when your stay ends; we are there for you throughout your recovery journey.
If you, or a loved one, are looking for help, please call us at (844) 443-7736, email us at info@herrenwellness.com, or fill out a contact form. You are not alone.