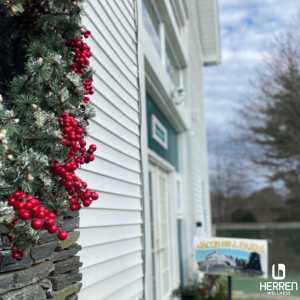 Embracing Gratitude, Inner Light, and the Joy of Recovery This Holiday Season 
At Herren Wellness the holidays are a special time of year where the community comes together to celebrate and reflect.  
While being away from family during this time can be challenging, we encourage our guests to focus on what they are grateful for, tap into their inner light, and embrace the joy of recovery. 
In this blog we celebrate the Herren Wellness community and the true meaning of the holidays.
Gratitude
This holiday season we feel extremely grateful to celebrate the one year anniversary of the opening of Herren Wellness at Twin Oaks.
Herren Wellness at Twin Oaks opened November 13, 2020 and since then has welcomed close to 100 guests, along with their families, and walked with them on their journey to recovery.  Our founders Chris Herren, Heather Herren, and Lori McCarthy set out to expand the mission of providing access to holistic recovery in Fauquier County, VA:
"As a former athlete I believe in culture. I believe in connection with others. There is a reason why I established that our team members don't wear uniforms; we're all in this together. The people we hire have the same belief and hope about recovery we do. They need to genuinely want to be part of someone's journey. Connection and culture start from the top; the same care, purpose, mission, and passion that went into our Seekonk, MA campus also went into establishing Twin Oaks."       ~ Chris Herren, Founder, Herren Wellness
Built in 1912, Twin Oaks sits on 50 private acres of hilltop and lake views and is rich in history, hosting former U.S. Presidents, hunt balls, and historic social gatherings.  Offering 21 beds, each guest room is uniquely decorated, some with private baths and fireplaces. Twin Oaks offers a great room, tennis court, on-site gym facility with state-of-the-art exercise equipment, in-ground pool, and stone patio, along with walking trails throughout the property.  
Over the past year we have been grateful to build relationships within the Warrenton community.  To celebrate the Twin Oaks one year anniversary, we hosted an open house on campus welcoming the recovery community, partners and former guests.  We were overwhelmed by the support received from attendees and enjoyed the opportunity to showcase what Herren Wellness at Twin Oaks is all about. 
We believe in the power of community and connection, and we are so grateful to the people and recovery community that has helped Twin Oaks flourish this past year. 
Inner Light
Hanukkah is also known as the Festival of Lights. 
Hanukkah is an eight-day
celebration that commemorates the rededication of the Holy Temple
after the Jewish people battled the Syrian-Greeks (Seleucids) to reclaim it in the second century BCE.  Rabbi Jessica Minnen explains:
"It symbolizes the creation of light in the darkest times, which will be especially true this year. Jewish holidays are all connected to the earth and the cycle of seasons. It is intentional that a holiday about creating light happens during the darkest week of the year." (Source)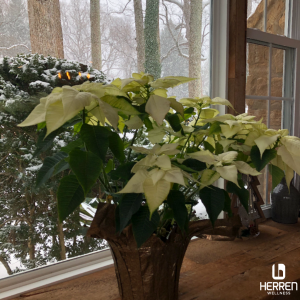 The candles symbolize the history of the Jews lighting up the holy temple for restoration, and it also has  spiritual meaning.  It is a time to reflect on who they are and rededicate themselves to their faith.  Nachum Braverman says:
"We light candles in testament that faith makes miracles possible."  
At Herren Wellness we believe in and witness the miracle of recovery everyday.  Part of our program is walking with guests on their journey as they "discover their why."  Similar to the meaning of Hanukkah, guests find their inner light and join together to reflect the light in each other, even in the darkest of times.   
Joy of Recovery 
We are fortunate at Herren Wellness to celebrate the joy of recovery all year, however the holidays are a special time to share the joy.  Luckily, there are many opportunities this holiday season to give back and celebrate:
Volunteering
No matter where you live, there is a need for volunteers during the holiday season.  Whether it is at a local food bank, a toy drive, wrapping gifts going to underprivileged communities, the opportunities are available.  Being in recovery, it is important to be of service and give back what was given to us.  Participating in this work gets us outside of ourselves and allows us to find gratitude in what we have and our circumstances.  
Gift Giving
The spirit of the holiday season is centered around giving, and thinking of others versus ourselves.  Gift giving does not have to be extravagant, it is more about the thought and effort behind it.  So this year take the time to think about loved ones and create or purchase a gift from the heart.  When the holiday finally comes around there is no better feeling than seeing the look on a loved one's face when they unwrap your thoughtful gift.
Christmas Tree Ceremonies and Lighting Displays 
All across the country, cities and towns put on annual Christmas tree lighting ceremonies to celebrate the holiday season.  These events are designed to bring families and friends together and spark joy and excitement for the holiday.  In more recent years homeowners and corporations have joined in and set up elaborate lighting displays designed for people to walk or drive through and enjoy.  Tree lighting ceremonies and lighting displays like this are a great way for us to tap into our childlike wonder for the holidays and share in the joy of the season.  
The holidays are a special time at Herren Wellness.  Guests join staff in decorating the rooms on campus in holiday decor and lights, and laughter can be heard and seen on faces.  We celebrate the season with special trips such as skiing, holiday shopping, and visiting a festival of lights.  While it can be difficult for guests to be away from family, we witness the community come together and find gratitude that they are giving themselves the gift of recovery.  
And At Herren Wellness we feel grateful to witness the miracles this holiday season.
About Herren Wellness
Herren Wellness is a thriving community of people at all stages of their recovery journey. We introduce healthy habits and routines centered around emotional, physical, and spiritual wellness that provide a solid foundation for rediscovering your interests, experiencing joy in sobriety, and building structure and routine.
We provide several alumni support communities, including a weekly recovery support group, monthly alumni meeting, and online alumni community you can access anytime. Your connection to Herren Wellness doesn't end when your stay ends; we are there for you throughout your recovery journey.
If you, or a loved one, are looking for help, please call us at (844) 443-7736, email us at info@herrenwellness.com, or fill out a contact form. You are not alone.