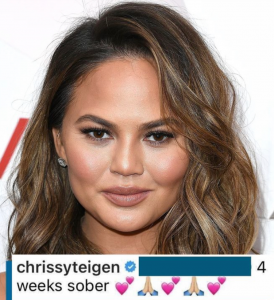 Chrissy Teigen's Sobriety
In the event that you haven't been on social media since January 1st allow me to catch you up on unexpected headline news: Chrissy Tiegen is four weeks sober!  With the state of the nation and world it's an interesting story to have risen to the top.  So let's take a look at this together, and why it is important in the context of Herren Wellness.
Chrissy was on a New Year's vacation with her family when she posted a lighthearted video of herself dancing on Instagram.  A fan commented "I need whatever drugs you're on!!"  To which Teigen replied: "4 weeks sober!" She then shared a book that inspired her decision and commented:
"I was done with making a (expletive) of myself in front of people (I'm still embarrassed), tired of day drinking and feeling like (expletive) by 6, not being able to sleep.  I've been sober since then."
Immediately gossip and lifestyle outlets began to publish articles which Chrissy is no stranger to, but big media names also weighed in including CNN, Chicago Tribune, Good Morning America, and The Boston Globe.
So.. what's the big deal?  A celebrity sharing on Instagram that she isn't drinking is headline news.. Why?  Stigma, that's why. Chrissy Teigen is a top followed celebrity married to Grammy award winner John Legend and a mom to two kids.  The former model has built an empire lifestyle brand Cravings, and very much seemingly has it all.
But did she?  As a person in recovery myself I can't help but read between the lines of this story.  I recalled that Chrissy opened up in the past about having a complicated relationship with alcohol which she shared in 2017 with Cosmopolitan Magazine:
"I was, point blank, just drinking too much, I got used to being in hair and makeup and having a glass of wine. Then that glass of wine would carry over into me having one before the awards show. And then a bunch at the awards show. And then I felt bad for making kind of an ass of myself to people that I really respected. And that feeling, there's just nothing like that. You feel horrible. It's not a good look for me, for John, for anybody" She has a history of alcohol abuse in her family, she said, and she's the type of person who "can't just have one drink."  
Sometime after this interview was released Chrissy made the choice to incorporate alcohol back into her life… totally her prerogative.  I continued to follow Teigen and she seemed to be doing amazing… traveling, cooking, having another baby.  Her life is truly enviable and she herself is a very likeable and relatable person.  I never did, though, forget about the Cosmopolitan article.
Courtesy of Los Angeles Times
Now here we are… 2021 and the news of Chrissy's sobriety is fresh.  The book which Teigen credits for sparking her sobriety was given to her by her doctor.  I am familiar with Holly Whitaker, the author of the book Quit Like a Woman:The Radical Choice to Not Drink in a Culture Obsessed with Alcohol.  She had a sobriety podcast that was a staple in my first year getting sober.  Holly has well documented her tormented relationship with alcohol over the years, but her differentiator in the sobriety community is that she does not identify as an alcoholic, and doesn't believe anyone has to.  Clearly this approach resonated with Teigen who promoted it to her following and suggested that all women read the book and question the role of alcohol in their own lives.  Holly shared this with her followers on Instagram:
"I created this page, wrote QLAW, and founded Tempest because my own experience getting sober was lonely, impossible, disappointing, we weren't talking about sobriety this way back then.  Not drinking meant you were the problem; not the society we live in, the impossible situations we find ourselves in, the constant ways we are sold alcohol as a cure all and a miracle when it is actually a thing that ruins us.  Getting sober is the best thing I have ever done and will ever do.  It's precious."
Courtesy of @see.sarah.read Instagram
Chrissy Teigen sharing her sobriety is normalizing the choice, whether it be for overall wellness, or because she has not been able to control her use over the years… quite frankly it doesn't matter.  The labels alcoholic/addict carry with them a stigma that causes far too many people to not speak up if alcohol/drugs aren't serving them.  Teigen is a powerful example of a happy, successful, no bull sh*t woman making a choice.  All too often stigma is enforced by tabloids like TMZ posting videos and headlines of celebrities in the throes of addiction.  If this is where the bar is set for getting help or stopping, then a lot of people are headed down a painful road.
When I came to Herren Wellness to meet with Chris and Lori and talk about a possible partnership, I went over my professional background and also my recovery story.  Chris listened, and had one suggestion for me: to reconsider emphasizing and using the term "rock bottom".  He explained how along the way he altered his talks around the country from speaking about his "worst day" to "the first day".  His public speaking pivoted as he saw that many would not make the choice on their own if they went by the standards of his worst day.  This belief that Chris holds is shaped into the wellness center he created at Herren Wellness. 
While scrolling all the stories of Chrissy Teigen's sobriety I was not planning on writing about it here, but then I saw the bigger picture of what was happening.  The fabric of stigma is being loosened with Chrissy sharing her choice with the world.  No dramatic rock bottom, just an honest decision for herself.  Fighting stigma is what we do at Herren Wellness, our guests have access to a wide range of holistic services and recovery programs.  Our center is a place guests want to be and want their families to come visit.  Guests are given the power of choice because we recognize recovery is a wide road and all are welcome.    
Thank you Chrissy for doing more than you probably even know.  And also thank you Chris for shifting my perspective on that day we met… I haven't used the word "rock bottom" since.     
About Herren Wellness
When you come here, you are immediately connected with a thriving community of people at all stages of their recovery journey. We introduce healthy habits and routines centered around emotional, physical, and spiritual wellness that provide a solid foundation for rediscovering your interests, experiencing joy in sobriety, and building structure and routine.
We provide several alumni support communities, including a weekly recovery support group, monthly alumni meeting, and online alumni community you can access anytime. Your connection to Herren Wellness doesn't end when your stay ends; we are there for you throughout your recovery journey.
If you, or a loved one, are looking for help, please call us at (844) 443-7736, email us at info@herrenwellness.com, or fill out a contact form. You are not alone.