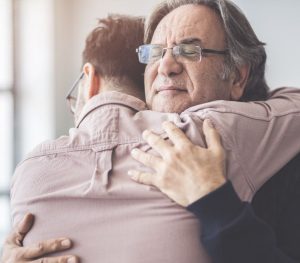 As a family member, partner, or close friend, you know that substance use disorder doesn't just affect the individual who is drinking or using – it affects everyone who loves them. As the disease progresses, the entire family unit struggles. Family and friends often change their behaviors around the person, distance themselves, and/or fall into their own denial about their loved one's illness.
When someone starts a program of recovery the same principle applies: as a newly sober person recovers, the entire family unit can recover along with them. This doesn't always happen naturally, however, as there are often many things to work through both together and separately. It's as important for loved ones to find resources, community, and support as it is for the person in early recovery.
Substance use disorder is a brain disease, and the symptoms of this disease are behavioral, which can be particularly perplexing to loved ones. Treatment should address both the biology of substance use disorder and cognitive tools to develop healthy patterns and behaviors. Becoming educated on this disease and establishing healthy boundaries are the most important goals for families and loved ones.
Loving a person in recovery – especially early recovery – requires a commitment from everyone, and here are some ways that family, partners, and friends can support their loved one – and themselves – as they embark on their recovery journey.
How Family and Friends Can Support a Recovering Loved One
When family and friends are involved in the recovery process, rates of dropping out of treatment decrease significantly and chances of a meaningful, long-term recovery increase. The early days of recovery can be tricky, but having the support and understanding of close friends and family can lay the foundation for continued success in sobriety.
Stay Involved and Supportive
When a loved one completes treatment and returns home, it's important for the entire family to create and implement a lifestyle change. This often means family members maintaining a drug-and-alcohol-free environment within the household – especially during a loved one's early recovery. By creating a healthy, sober home environment, it reduces the temptation for using or drinking.
The support of loved ones helps minimize feelings of isolation and frustration that are not uncommon during this challenging period.  Encourage open, honest dialogue. Spend time as a family doing activities that support their recovery and help the family unit heal.
Take Good Care of Yourself
Often, when dealing with a loved one's substance use disorder, family members' own self-care falls by the wayside. Taking care of your own physical and mental health is essential for ensuring the family continues to heal and move forward. Exercise, good sleep hygiene, and healthy eating habits are instrumental in a loved one's healing journey.
Family Therapy
Substance use can tear families apart and cause major rifts in relationships, and attending family therapy with your recovering family member helps in many ways. Family therapy offers family members a safe place to work through a variety of issues and help restore function to the family unit, an important factor in successful recovery. Together the family can learn healthy ways of communicating, restore trust, and repair damaged relationships.
Family therapy also helps family members gain a better understanding of addiction as a chronic, relapsing brain disorder. This insight can help inform family members as they work to figure out how to best support their recovering loved one.
Individual Therapy
Even if the family is in therapy together, having an individual therapist can assist family member's work through their own emotions surrounding their loved one's substance use.
Understanding Relapse
A relapse doesn't mean that your loved one has failed in some way or will never be able to overcome substance use disorder. It just means that they need more time to reinforce their coping skills and to learn how to handle triggers and urges. You can help your family member head off a potential relapse by being aware of the warning signs of relapse.
It's important to keep your expectations in check regarding your loved one's recovery. Substance use disorder is a chronic condition, and many people experience a relapse along the way. Through therapy and community support, families can educate themselves on helpful responses to relapse and ways to be supportive and not fall back into old patterns.
Understand Triggers
Triggers are events or conditions that make someone in recovery want to use again. Some of the most common triggers include stress, negative emotions, exposure to drugs and/or alcohol, and feelings of isolation and loneliness. By understanding what your loved one's triggers are, you can help them avoid their triggers. Dysfunction in the household can be a trigger for relapse, so continuing to work on healthy communication and coping skills within the family system is essential.
Have Fun Together
Early recovery can be a challenging time, but it can also be a joyful time, and an important aspect of relapse prevention is helping your loved one find enjoyment in life without drugs or alcohol. Find ways to have fun and enjoy the time you spend together as a family. Healthy activities and hobbies are a great way to develop new family routines and traditions that help the entire family unit heal.
How Herren Wellness Can Help
We believe that family and friends play an essential role in helping their loved one maintain a meaningful and sustainable recovery. We encourage healthy involvement of family both during and after treatment at Herren Wellness. Our Family Support professionals guide and educate families on how to best support themselves and their loved one on their collective journey of recovery and healing.
At Herren Wellness, we work with families and guests to examine every aspect of how substance use impacts their lives, and walk with them through their journey to wellness and living without mind-altering substances. Sobriety is so much more than ceasing drugs and/or alcohol, so we work with guests and families to examine all aspects of their lives, including emotional, social, financial, spiritual, and mental elements that help them collectively heal from substance use disorder.