Nutrition is an essential component of the healing process, and communing with nature, spending time outdoors, and engaging in enriching and fun activities are also vital to building a healthy recovery. At our Seekonk campus, we have started a garden that helps our guests do both.
Using the Gifts Our Guests Bring
We love learning about the interests, hobbies, and talents of our guests, and sometimes these lead to fun new programs all our guests can enjoy. One of our recent guests had expertise in gardening and working the land, and he inquired about the opportunity to begin a garden at Herren Wellness.
We loved the idea, and so did the other guests.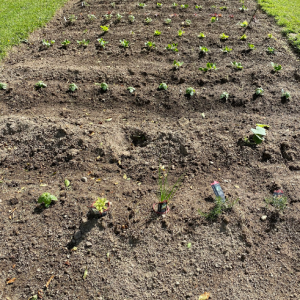 Earlier this spring, Mike Larrivee, Facilities Manager at Herren Wellness, collaborated with guests to design, build, and plant this new garden.
Just like in recovery, the journey is just as important as the destination when it comes to gardening. Using the land's natural resources and the combined talents of our guests, they plotted the ideal spot to plant a garden, figured out which herbs and vegetables to grow, dug out a plot of land, and built a sturdy fence around everything to keep wildlife away. In only a couple of weeks, the garden was ready to plant and nurture.
Gifts from the Garden
While the garden provides fresh, home-grown vegetables and herbs, our guests experience other gifts from the garden as well. For many people in early recovery, it has been a long time since they have experienced a summer without a substance. Working in the garden and enjoying the fruits of their labor reminds them that there are many fun, healthy, and enriching paths to explore in sobriety.
Tending to the garden provides guests opportunities to work with their hands, lose themselves to the calming beauty of nature, and discover or rejuvenate a hobby.
The vegetables go right from the garden to our kitchen, where they are used to create healthy meals and sides including ripe tomatoes and fresh basil for Caprese Salad, and fresh lettuce for our salad bar.
Reaping the Benefits of Hard Work
Nurturing a garden is a lot of hard work. Guests voluntarily step up to do the daily things needed to keep the garden flourishing. When someone is struggling on any given day, sometimes the calming Zen-like work of weeding the garden or watering the plants helps bring someone back to center.
Some guests discover a love of gardening they never knew they had, while others learn new skills like how to build the fence or till the earth. This brings a sense of pride and satisfaction many hadn't experienced in some time.
The garden builds structure, responsibility, and a chance to give back to the community into guests' day-to-day lives, and this benefits everyone.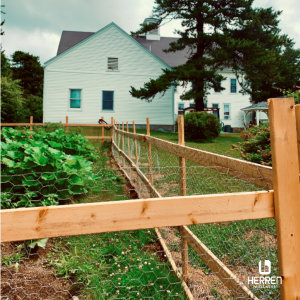 The garden is a gift that keeps on giving within our community not only providing nutrition but also allowing our guests to re-center and focus on wellness.
About Herren Wellness
When you come here, you are immediately connected with a thriving community of people at all stages of their recovery journey. We introduce healthy habits and routines centered around emotional, physical, and spiritual wellness that provide a solid foundation for rediscovering your interests, experiencing joy in sobriety, and building structure and routine.
We provide several alumni support communities, including a weekly recovery support group, monthly alumni meeting, and online alumni community you can access anytime. Your connection to Herren Wellness doesn't end when your stay ends; we are there for you throughout your recovery journey.
If you, or a loved one, are looking for help, please call us at (844) 443-7736, email us at info@herrenwellness.com, or fill out a contact form. You are not alone.