Red Ribbon Week is a drug, alcohol, and violence prevention awareness campaign observed annually in October. Red Ribbon Week, started in 1985, is the nation's largest and longest-running drug awareness and prevention campaign.
In 2019, Red Ribbon Week is October 23 – 31, and the theme this year is "Send a Message. Stay Drug Free." This theme was selected among thousands of suggestions submitted by students, parents, educators, and community members across America.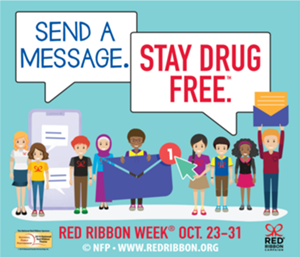 The Impact and History of Red Ribbon Week
This year's theme is a call-to-action in support of healthy choices, and it is a reminder that by staying substance-free we send a message about the importance of the health and wellbeing of individuals and the community at large. This effective campaign reaches over 80 million in the United States each year.
Sponsored by the National Family Partnership and Red Ribbon.org, this movement was founded in response to the murder of DEA Agent Enrique Camarena, when angered parents and kids in communities began wearing a red ribbon as a symbol of their commitment to raising awareness about the violence and destruction caused by drugs. The Red Ribbon further symbolizes the fact that one person can, in fact, make a big difference.
The Red Ribbon Pledge
Did you know that teens whose parents talk to them regularly about drugs are 42% less likely to use drugs than those who don't? Despite this staggering result, only about 25% of teens report having these important conversations with their parents.
Parents and kids can actively participate in Red Ribbon Week by taking the following pledge together:
PARENT PLEDGE:
As parents and citizens, we will talk to our children and the children in our lives about the dangers of drug abuse.
We will set clear rules for our children about not using drugs.
We will set a good example for our children by not using illegal drugs or medicine without a prescription.
We will monitor our children's behavior and enforce appropriate consequences, so that our rules are respected.
We will encourage family and friends to follow the same guidelines to keep children safe from substance abuse.
YOUTH PLEDGE
I understand the dangers of drug use and abuse.
I respect myself and am drug free.
I will spread the word to family and friends about the importance of being healthy and drug free.
You can sign this pledge online, adding your voice to the millions of others committed to a healthy, substance-free lifestyle.
You can also download the youth and adult pledge certificates and proudly display them in your home.
Red Ribbon Week Resources
The Red Ribbon Week website has great information about this year's campaign message, ideas for celebrating in your community, templates, resources, and more. Download the Red Ribbon Week Planning Guide for more information.
You can share your commitment to living a healthy, drug-free lifestyle on social media as well, by downloading the Red Ribbon Week Campaign Logo.
For more updates and information you can also follow the Red Ribbon Campaign on Twitter and Facebook.
At Herren Wellness, we fully understand and support the powerful impact education, prevention, and awareness have on helping adults and kids alike live healthier, substance-free lives that prioritize wellness of mind, body, and spirit. We add our voice to the millions of other voices helping to spread the word.