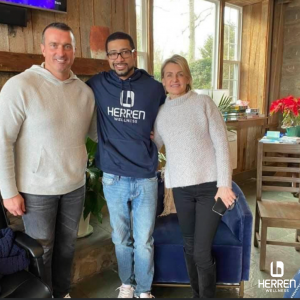 Meet The Team: Quinton O'Connor 
At Herren Wellness we invest in our people to shape the community of recovery that we embody.  Quinton was a guest at Herren Wellness Jacob Hill in 2019 and has since relocated to work at Herren Wellness Twin Oaks in Warrenton, VA. 
In this week's blog we catch up with Quinton and find out more about his story.
What brought you to Herren Wellness?
Life before sobriety was one dominated by drugs and alcohol. My entire thought process and actions were consumed with finding ways and means to consume as much as I could, sadly with no concern for the consequences. Anything and everything that got between me and drugs had to go. That wasn't life; it was a poor example of my existence motivated entirely by my active addiction. Within my first few hours at Herren Wellness, I noticed something was different. Both the staff and the guests had a warm way of welcoming me and making me feel at home. Even at times I remember feeling embarrassed that I needed to get sober. I remember feeling defeated, lost, lonely, and like a complete failure. It was the support, love, and compassion that I received at Herren that enabled me to let down my guard and trust others. I simply cannot overstate how much I lost because of my drug abuse, and how much more I have regained in the time since I came to Herren Wellness and became sober.
What is the best advice you have received in recovery?
Getting to this point where I am today wasn't easy, especially in the beginning. Today I have been sober for just shy of a year and a half. I am not foolish enough to think that I am "cured". Far from it. 18 months, all the work I have done and all the work I continue to do everyday, I am fully aware that I did not get to this point on my own. Herren Wellness has allowed me to realize that my sobriety is the most important thing in my life. The best advice I have received and could give is to remain teachable. Ask for Help. Stay in the present. Remember to be patient with myself as I am changing and growing. I don't want to drink or drug again as long as I live, I've had it.  Just for today I wake up and keep that mindset, all I have to do is continue to do the next right thing. I must put my sobriety first so that everything I love doesn't come last.
 

Have you had any unexpected challenges in recovery and how have you overcome them?
 Today I allow myself to accept challenges with open arms, I enjoy a good challenge, due to the fact every battle I engage in is an opportunity to strengthen my character. My strength is tested on a daily basis which continues to force me to grow. In the past I would run away from challenges, hoping they would just disappear only to delay the healing process. Among the many unexpected challenges, I have faced in recovery rebuilding a relationship without fear with my family has been the most challenging. For years I had pushed my loved ones away and put them thru a lot of pain and misery. Being around them sober for the first time brought an uneasy feeling, stress and at times feeling like it may be hard to believe things would get easier. But they do. Staying in contact with my support network and remembering to stay grounded and reminding myself about the progress I've made. My recovery from drug addiction is the single greatest accomplishment of my life…. But it takes work, hard, painful work.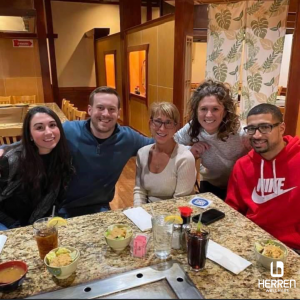 What is your role at Herren Wellness and how would you describe the community?
 I'm a Wellness Associate at Herren Wellness Twin Oaks, in Warrenton Virginia. I am unbelievably grateful for the opportunities I have been given today. Recovery is not a solo venture. "We Recover Together". Having the opportunity to help others daily, unselfish giving of yourself to another human is a passion of mine. Today I have to ability to share and give back what has been given to me at Herren Wellness. Today I regularly remind myself how lucky I am to be alive. Sharing my experience, I hope that I can help other guest along this beautiful journey and remind them that living sober is worth the work required to get there. Today I continue to be thankful for my struggles because without them I may have never found my strengths.
 Our Herren Wellness Twin Oaks location is set on 50 private acres of rolling hills and lake views.  Offering 21 beds, each guest room is uniquely decorated, some with private bath and fireplaces. Twin Oaks has a great room, tennis court, on-site gym facility with state-of-the-art exercise equipment, in-ground pool, and stone patio, along with walking trails throughout the property.
Most importantly the culture from Herren Wellness Jacob Hill has been brought to Warrenton, VA thanks to our team, namely Quinton.  Best said by our founder Chris Herren: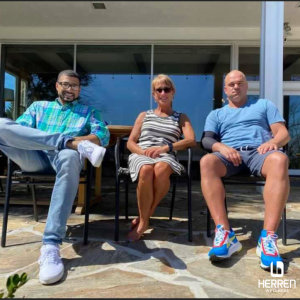 "As a former athlete I believe in culture. I believe in connection with others. There is a reason why I established that our team members don't wear uniforms; we're all in this together. The people we hire have the same belief and hope about recovery we do. They need to genuinely want to be part of someone's journey. Connection and culture start from the top; the same care, purpose, mission, and passion that went into our Seekonk, MA campus also went into establishing Twin Oaks."
~ Chris Herren, Founder, Herren Wellness
About Herren Wellness
When you come here, you are immediately connected with a thriving community of people at all stages of their recovery journey. We introduce healthy habits and routines centered around emotional, physical, and spiritual wellness that provide a solid foundation for rediscovering your interests, experiencing joy in sobriety, and building structure and routine.
We provide several alumni support communities, including a weekly recovery support group, monthly alumni meeting, and online alumni community you can access anytime. Your connection to Herren Wellness doesn't end when your stay ends; we are there for you throughout your recovery journey.
If you, or a loved one, are looking for help, please call us at (844) 443-7736, email us at info@herrenwellness.com, or fill out a contact form. You are not alone.