Meet The Team: Patrick DelleDonna
At Herren Wellness our people make the difference.  Patrick DelleDonna joins the Herren Wellness team as Director of Outreach and is hitting the ground running.
Patrick is a special addition to our team because as a former guest he embodies the Herren Wellness program.  Patrick recently made a career change to join us and we couldn't be more grateful to welcome him onboard.
This week we catch up with Patrick to hear about this exciting new opportunity and what brought him here.
What brought you to Herren Wellness?
What brought me to Herren Wellness is my time here as a guest.  I struggled with substance use for 15 years and had been to multiple treatment centers.  I was very familiar with Chris's story and saw "Unguarded" countless times during my battle. Chris's story gave me faith and a little bit of hope in my darkest moments. During a period of sobriety, I had the opportunity to meet Chris at one of his speaking engagements. After a bad relapse, I contacted him. The next day, I entered the doors as a guest at Herren Wellness and I have been sober since.
What is your role at Herren Wellness and how did it come about?
My role at Herren Wellness is Director of Outreach.  After my time as a guest, I returned to my career in HR/Talent Acquisition.  I always wanted to be part of Herren Wellness and, when the opportunity came up, I was honored to be considered. I couldn't be happier with my decision to make the career change and become part of something very special to me. To be able to educate industry professionals, families, and potential guests on Herren Wellness comes very naturally to me. I know firsthand what Herren Wellness can provide to anyone struggling and their loved ones.  It is something I have an incredible passion for because of what it has done for me and my family.
What makes this role different for you than other positions in your past?
This role gives me the ability to have a small piece in changing the trajectory of someone and their loved ones' lives.  I have witnessed the blessings that recovery can provide and it never ceases to amaze me.
To be able to go to work every day knowing I have the opportunity to pay it forward at the same place the gift of recovery was given to me is incredibly fulfilling.
What makes the Herren Wellness community special to you?
I can't put into words what Herren Wellness and the Herren family mean to me. I truly believe that I am not here today without this place and the HW family.  It is an incredibly special place for so many reasons but , to me, the biggest factor is the remarkable collection of knowledgeable, kind, caring people who are great at what they do.  Their passion and recovery experience is apparent and becomes contagious. It is a special blessing to get work alongside Chris, Heather, Lori and the rest of the team.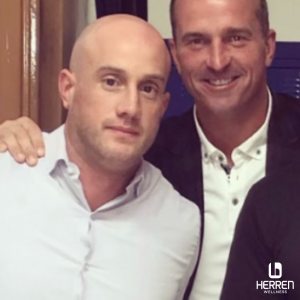 How does your recovery impact your life today?
Recovery has truly given me everything I could ask for.  To be a part of the recovery community and help others is special.  It has provided a sense of gratitude and humility that guides me day to day. The most important impact it has had is the renewed connection with family. My mother has been instrumental throughout my battle being the perfect combination of compassion and tough love. I was also fortunate to have a family and some loyal friends that never gave up on me.  It is great to see the level of peace and joy we all have that wasn't always possible a few years ago. Today I am the son, brother, nephew, uncle and friend I always wanted to be.
Patrick's passion for recovery and specifically for Herren Wellness shine through as he shares program information and resources available to those in need of treatment. He is an instrumental part of our organic growth and we are grateful to welcome him to the team.
About Herren Wellness
Herren Wellness is a thriving community of people at all stages of their recovery journey. We introduce healthy habits and routines centered around emotional, physical, and spiritual wellness that provide a solid foundation for rediscovering your interests, experiencing joy in sobriety, and building structure and routine.
We provide several alumni support communities, including a weekly recovery support group, monthly alumni meeting, and online alumni community you can access anytime. Your connection to Herren Wellness doesn't end when your stay ends; we are there for you throughout your recovery journey.
If you, or a loved one, are looking for help, please call us at (844) 443-7736, email us at info@herrenwellness.com, or fill out a contact form. You are not alone.