The holidays can be a stressful time for families and individuals with Substance Use Disorder. Liz Estrela is a Life Coach and Licensed Independent Clinical Social Worker here at Herren Wellness. She works one-on-one with the guests, and their support system, and is an integral part of our mission and team.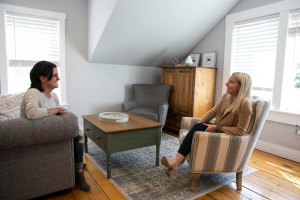 I got into the substance use disorder field at a young age, when I had the opportunity to intern at a recovery high school as an undergraduate student. My father struggled with this disease and eventually passed away from it while I was working there. Being surrounded by a community who understood and could help me through it was my first exposure to the power of community & healing that is found in recovery. I felt very understood and included, and it sparked my desire to make this my career.
Throughout my career, the most important thing I've learned is that the connection, human-ness, and the willingness to be vulnerable are interwoven with recovery and wellness. You cannot have one without the other.
I also learned that a one-way approach to something as complex and personal as recovery doesn't work and that each person is different, so their recovery will likely be a unique experience from that of their peers.
I grew up in the area, and when I moved back here a little over a year ago I learned about Herren Wellness through a family friend, and I was drawn to their mission. I reached out to them, met with the team, and connected immediately.
I have been here just over a year now, and I think one of the things that makes Herren Wellness different is people feel genuinely loved here – both guests and staff alike. Here, there is a lot of thinking with each other. It's a team approach, everyone works together to help guests – and each other – as best they can.
It's so beautiful. It doesn't feel like a job, because people are showing up for you as much as you are showing up for other people. People check in with each other and care about each other. Everyone is dedicated to what they do. Here, you can completely trust that everyone wants the best for each other.
I think everyone at some point in their life has felt different, or "other than", and this is the last place we want anyone to feel that way. I can't dictate to someone how their life is, or how their life should be, it's a process where we work together. I care so much more about figuring it out together than I do about being right. Recovery is a very human experience and it requires a lot of introspection and flexibility- both professionally and personally.
At Herren Wellness we aren't focused so much on a diagnosis, we are more focused on healing and wellness– helping our guests develop a sense of meaning and purpose in their lives.
Families are always actively involved in the healing process as well, and family looks different for everyone. We work with a person's support system in whatever form that takes.  This doesn't end when a guest's stay here is complete, either. Both the guest and their support system become part of the Herren Wellness family – we support them however they need – whenever they need it.
Recovery is centered around community and interpersonal connection- Herren Wellness offers a community and family for our guests and their supports that they will have forever – there is no end date to healing and recovery and we are blessed to have a wellness center that fully embraces that.
I was told by a mentor of mine, that you can gauge the effectiveness of a community and how well they work together by how much laughter you hear. When you walk in the door at Herren Wellness and see how we interact – it is a powerful testimony of what recovery looks like. There is a lot of laughter, – it's joyous laughter. The mission is important and serious, but healing and laughter often go hand-in-hand, and for a lot of guests the ability to laugh and experience joy is an important first step on their journey to wellness.
Herren Wellness Can Help
We help guests build the skills that are essential to a sustainable recovery, including mindfulness practices, self-care and self-esteem skills, maintaining healthy relationships, and digging into the root causes of what led them to become dependent. We guide guests on how to build upon the skills they already possess and help them discover their 'why', or what motivates them to maintain a life of wellness and recovery.
If you, or a loved one, are looking for help, please call us at (844) 443-7736, email us at info@herrenwellness.com, or fill out a contact form. You are not alone.