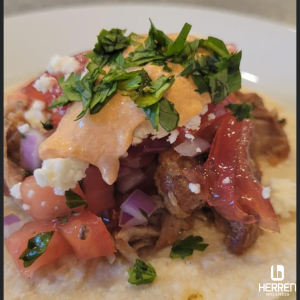 Meet The Team: Justin Cruz
At Herren Wellness we believe in providing guests with nutritious food to aid in their recovery.  We are also passionate about our staff because we are like a family and set the tone for the community.
In September the position of Chef at Herren Wellness opened and it required a special person with the right skill set and personality to fill. Justin Cruz had followed our founder Chris Herren's career, even as a chef in Louisville Kentucky.  Justin would go and see Chris speak if he was within three hours, and the two developed a friendship.  Little did Justin know that he would receive a message from Chris that would change his life.
Justin relocated and is now the Chef at Herren Wellness and we are so grateful to have him on board.  This week we sat down with Justin to hear more about his story and what brought him here.
How did you become familiar with Chris Herren and Herren Wellness?
As a teenager, even pre-teen, my grandfather picked me up from junior high and would hand me the newspaper and say "check the box score and see who scored more points last night" it either Marcus Wills from New Bedford or Chris Herren from Durfee in Fall River.  I would look frantically as he taught me about these local sports stars.  He also pointed out Chris' older brother Mike who was also quite a big basketball star as well years before, so his name stuck in my head.  As Chris' career went on I followed him, not knowing that years later we would become friends and have this opportunity together.  I lived in Louisville for the last two decades before this opportunity came along, and anytime Chris was within three hours for a speaking engagement I was there.  I always loved seeing Chris and Jenny Swider on the road.
How did this opportunity for Chef at Herren Wellness come about?
That's an interesting question, I had left my job in Louisville and had another opportunity come up for next Summer, so I needed to fill in the gaps which wasn't difficult because being in the restaurant industry I know a lot of people in town.  I woke up to a message from Chris letting me know he was looking for a chef for his wellness center in Seekonk, and asked if I had any referrals.  That was at 7am which was a bit early for me, so I actually thought it was a dream, but when I got up hours later the message was still there.  I messaged him back after thinking over referrals to send him and not coming up with any, I offered to do it myself.  He accepted later that evening.
What is your recovery story?
In 2004 I was locking up an Irish pub I managed in Louisville and I got a phone call from a buddy across the street. It always starts with a friend…I bump into a line of cocaine that took me eight and a half years to walk away from.  They told me it was one line and the part they left out was that it would take almost a decade of my life.  They told me it was five bucks to cover the cost that night, what they left out was that it was $2,000 a month going forward.  They left out that it would cost me losing my job, losing my vehicle, being homeless for 44 days, stealing from my own grandmother, and turning me into someone who was not a good person.  In 2012 I was working at Not Your Average Joes in Dartmouth, great people to work for one of whom was Douglas Lopes.  Douglas was in recovery himself, so he knew the signs of substance abuse, and one night he decided to confront me as I was cashing out.  He reminded me that he knew my family and thought I was extremely talented and he asked me to please stop.  It was the first time anyone had ever called me out on my substance use and I truly believe that if Douglas never had that conversation with me that day, this conversation wouldn't be happening.  In 2013 I had a small stroke in my sleep after being out all night before, and fortunately there were no long term effects.  At the time the doctor said to me "congratulations you survived this, if you have another one you won't."  My vitals and organs were going in the wrong direction, and September 1st, 2013 I chose to make a difference in my life.  I went back and resolved financial hardships I placed on myself, I changed my diet, I changed the people I was around, and I'm blessed that eight years later I haven't had to pick up a handful of pills or cocaine to make myself feel good enough.
What is your least favorite thing to cook?
That's a tough one because a chef loves to cook and a good chef loves a challenge.  But if I had to pick one I would probably say Asian food.  I love the balance of flavors; the ginger, hoisin, the sweet and sour salty plays off of one another.  Since I don't cook it everyday I don't know it as well as I should, so I just assume I'll let the professionals in the area do it and I'll enjoy as a consumer.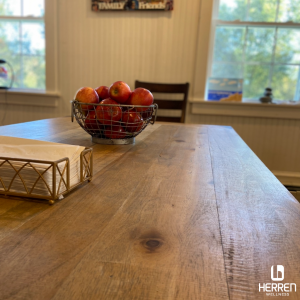 What is the easiest meal that you would throw together for yourself in 20 minutes?
When I approach food I look at it from a balanced standpoint of your classic Julia Child plating: protein, starch, vegetable, sauce.  Within those four components when you try to balance the plate, it really comes down to the balance of fats and acids.  I like to dig into greens and spinach and healthy foods like that and bring fats and acids to them.  It could be a Waldorf salad with Gorgonzola, apple, and the vinaigrette, or it could be something Mediterranean with feta or goat cheese with lemon and olives. I am constantly straddling the line between fats and acids to give it the chew and mouth feel, and also leave you wanting to dig back in for the next bite.
Justin has added so much to the Herren Wellness community in a short period.  Justin can be seen each day talking through his meals with guests and making them feel a part of the process.  He also works closely with our on staff nutritionist Stephanie to ensure that guests are getting the nutrients needed for their recovery.
We are grateful that Chris brought Justin on board, and that he was willing to relocate to Seekonk and join the Herren Wellness team.   Justin's passion for quality, nutritious food rings true through his meals and we are always excited to see what he will come up with next!
About Herren Wellness
Herren Wellness is a thriving community of people at all stages of their recovery journey. We introduce healthy habits and routines centered around emotional, physical, and spiritual wellness that provide a solid foundation for rediscovering your interests, experiencing joy in sobriety, and building structure and routine.
We provide several alumni support communities, including a weekly recovery support group, monthly alumni meeting, and online alumni community you can access anytime. Your connection to Herren Wellness doesn't end when your stay ends; we are there for you throughout your recovery journey.
If you, or a loved one, are looking for help, please call us at (844) 443-7736, email us at info@herrenwellness.com, or fill out a contact form. You are not alone.