Jacqueline ("Jackie") Proulx is the Executive Chef at Herren Wellness. She is responsible for everything about our meals, from planning to preparation. Her emphasis on healthy – and delicious – food is an integral part of our guests' health, healing, and wellness.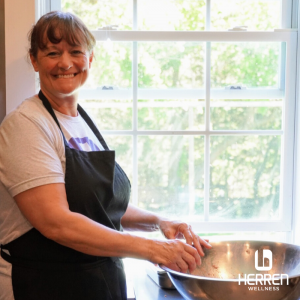 "There are many local farms in the area, so we use locally grown, farm-to-table foods as much as we can. We use grass-fed beef and antibiotic-free meats. We prepare lots of healthy food and keep a balance between comforting food and nutrition. I call it 'comfort food with a healthy twist'.
I am Mom, Grand-Mom, and a self-taught chef. In 2007 I opened a pizzeria and deli restaurant, and that's when I met Chris. He had recently completed his treatment, and the recovery meetings he went to were right up the street from my restaurant. He would come in a couple of times a day, and I didn't know who he was, or that he was an athlete, so it was a safe place for him to come and be himself.
In 2015 I closed my restaurant. Chris heard about that and in 2016 approached me with his idea of starting Herren Wellness. He asked me to come be the Executive Chef, and I was really amazed and grateful. He said to me "you heal people with food; that's what you did for me, and I want you to be able to share that gift with others". I was going through a difficult time in my life back then, and this was just what I needed, too. We were helping each other.
It's an incredible thing to watch guests from when they first come in, most of them at a really low point in their life, and seeing them change and heal over the course of their stay. It makes me happy to come to work every day, to see the progress people make and the healing that takes place here.
It's also great when alumni come back to visit – which they do quite a bit – and to see this Herren family growing. People come back to touch base, or just hang out. Meals are a big part of this, too, because Chris and Heather always welcome alumni to come back and share a meal any time they want. People are very welcome here. It's an amazing thing to see.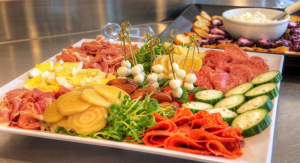 When guests first arrive, they are so uncertain, and once we put out our meals, they say they are comforted to see how good the food is. We do our best to accommodate everyone's needs, and to make them feel at home here. We serve three meals a day – breakfast, lunch, and dinner – and if someone has an allergy or special requirements, we make sure they are met.
Food is an important part of the healing process, too. People who get here have often not been eating well, or at all, and have little or no interest in food. Food is part of the pleasure center of the brain, and healthy, comforting food stimulates that pleasure center. It starts with helping new guests get to a place where they physically feel better, and then you see how it helps them mentally, as well.
Guests usually aren't used to taking care of themselves, and it's all about education and showing them how to eat well as part of their self-care. It's funny sometimes how people don't realize how much they like healthy foods. They will say "I don't eat vegetables", or something like that, and by the end of their stay they are enjoying them regularly.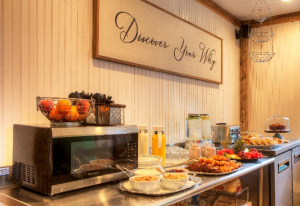 When I think about the culture at Herren Wellness, the word that most comes to mind is 'family'. It's hard to find the right words to describe the culture and energy here; it's so special. It's friendship, and building bonds, and community.
For the holidays, I like to tell people to focus on balance as much as they can, but it's also important to enjoy the special holiday food. We serve things like turkey, prime rib, baked stuffed shrimp, and an array of vegetables and salad.
I think it's important that food is enjoyed, and it's meant to help you feel better. There was a guest who was beating himself up for eating a big meal at Thanksgiving, and I told him not to beat himself up – that holidays, in particular, are a time to really enjoy the tradition of coming together around good food. Holidays are one day, one meal, so enjoy yourself! it's more important to be healthy, balanced, and mindful about nutrition on 'normal' days. It's about balance, and every day is a new day.
I wear my emotions on my sleeve. I'm busy a lot, preparing meals and running around, but I always tell guests they can come share how they are feeling with me. If they need to cry? I tell them to come cry with me. The whole team is part of helping each other."
Herren Wellness Can Help
We help guests build the skills that are essential to a sustainable recovery, including mindfulness practices, self-care and self-esteem skills, maintaining healthy relationships, and digging into the root causes of what led them to become dependent. We guide guests on how to build upon the skills they already possess and help them discover their 'why', or what motivates them to maintain a life of wellness and recovery.
If you, or a loved one, are looking for help, please call us at (844) 443-7736, email us at info@herrenwellness.com, or fill out a contact form. You are not alone.