At Herren Wellness, recovery is a part of our culture and many members of our team live a life in recovery from substance use. Fen Gardiner is a Wellness Associate and also works with guests to provide Hyperbaric Oxygen Chamber Therapy. He is a true example of the power of recovery. 
I come from a lineage of firefighters, all of whom had successful careers in service of the town where I grew up. I was raised in a "family comes first" environment, which is a big part of why Herren Wellness' mission and culture are so attractive to me. Their emphasis on family really resonates with me.
I was raised in a family that worked hard, and like many families, alcohol was part of our downtime celebrations and family gatherings.
Drinking and drugs weren't part of my world in high school; that didn't start until college, where I worked hard and decided I wanted to become a doctor. I aspired to do something 'important' with my life to be worthy of the education I received.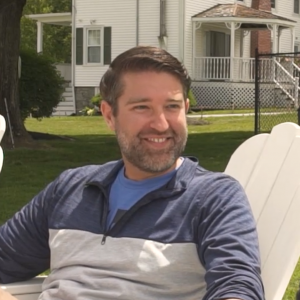 For a few years after college, I worked at a hospital as I applied to medical school, and once I got into medical school the stress made my drinking increase significantly.
Depression and anxiety, which had always been present in my life, got worse. I kept it all tightly under wraps. I left medical school at the end of my third year because I couldn't keep it all going.
After a failed marriage, two DUIs, and one failed attempt at treatment, I chose to seek help for a second time. I started to dig into what was behind my drinking and mental health and learned to get to know myself in ways I hadn't before. I learned about my need to control things, and how that made me believe I could be two steps ahead of everything. I learned about how that mindset and my upbringing led me to believe that I can handle anything, without talking about it to anyone.
Today, I have a family here at Herren Wellness.  I'm able to stand tall and walk through things with the support of people who understand.
One of the things I love most about Herren Wellness is that they provide a safe, loving space for guests to explore – both mentally and physically. The campus is beautiful, and the guests have the literal and figurative freedom and ability to stretch, grow, and learn.
I believe the ability to explore physically opens the mind to be able to explore mentally, and Herren Wellness provides that space.
When I work with guests, I know how they feel because I have been there. Staff and guests are all part of the same community, which is also unique to Herren Wellness. We are all part of each other's journey.
There is nothing more beautiful and important to me than being part of a guest's transformation. It's an honor and privilege to be part of it. I walk with guests as they grow through their discomfort and fear, and I bear witness as their internal light grows brighter and brighter.
About Herren Wellness
When you come here, you are immediately connected with a thriving community of people at all stages of their recovery journey. We introduce healthy habits and routines centered around emotional, physical, and spiritual wellness that provide a solid foundation for rediscovering your interests, experiencing joy in sobriety, and building structure and routine.
We provide several alumni support communities, including a weekly recovery support group, monthly alumni meeting, and online alumni community you can access anytime. Your connection to Herren Wellness doesn't end when your stay ends; we are there for you throughout your recovery journey.
If you, or a loved one, are looking for help, please call us at (844) 443-7736, email us at info@herrenwellness.com, or fill out a contact form. You are not alone.