Aliza Bogdanich holds a M.Ed. in Counseling and Human Development and is a Life Coach at Herren Wellness. She works with guests, and their families, to heal from substance use disorder, achieve a meaningful and sustainable recovery, and build habits and routines that support overall wellness of mind, body, and spirit. We recently spoke to her about her experience at Herren Wellness, and what makes her work so meaningful.
I've been in the recovery field for six years, and at Herren Wellness since a month after it opened. Before coming to Herren Wellness I knew of Chris' story, had heard him speak, and found that I shared a passion for his mission.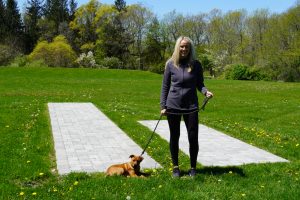 Lori McCarthy [Executive Director] and I had worked together before, and when Herren Wellness opened Chris and I spoke, and I jumped at the opportunity because what could be better than to work for a pioneer in the field?
I met with Chris and Lori and I thought wow, because the whole feel of Herren Wellness was so different than anything I had ever experienced. It was such a comfortable atmosphere, and you could see that although people were in pain, they were healing. You could see that people were so brave.
I immediately had the feeling of "oh, this is why I do what I do", and it was amazing to be at a place that was so aligned with my own personal philosophy about recovery and wellness.
The culture there is hard to put into words, because any word I can think of feels too small. It's a privilege to witness guests and families have this shift. I can't tell you how many guests refer to it as 'home'.
I think it's especially important to recognize that there are former guests who are now staff, and other staff members in recovery, which makes guests feel safe and understood. We have one-year celebrations for former guests, and it's amazing to see how it inspires current guests and shows them they can achieve sobriety and be content, too.
Guests – and their families – are encouraged to remain part of the community even after their stay is complete, and this makes Herren Wellness stand out.
As a Life Coach I work one-on-one with guests, lead groups where we encourage guests to talk about ways they are struggling and ask them to dig into the things that led them to start self-medicating with substances. The Life Coaches also meet as a group to see how we can work together to support guests as much as possible, and how we can help them walk through fear and heal.
It's more than simply helping someone achieve and maintain sobriety. Helping someone cease substance use is the first step, but we look at the whole picture and examine a person's mental, physical, and emotional wellbeing. We provide care for the whole person and every aspect of their lives.
We talk a lot about 'discovering your why', and the reality is there are multiple 'whys'. We look at all the situations and circumstances surrounding a guest's substance use. At most centers you don't have time to get to the 'whys', but at Herren Wellness we go deeper, and that takes time.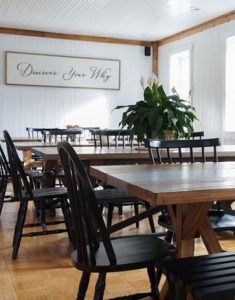 We make sure our guests have enough time there for all the self-exploration and self-reflection needed to really get to the core of their substance use and overall wellness. It helps guests a lot to be at a place where they aren't on a 'time crunch' and simply working towards a discharge date on the calendar.
When people come into a program everyone is aware of what the problems are, but we take it further than that and help people uncover, rediscover, and nurture their strengths.
This is incredibly rewarding because to get to someone's strengths we need to shed a lot of the negative beliefs people have about themselves. When someone is brave enough to talk about a negative core belief they have about themselves I know this is the moment their transformation begins.
The feedback and understanding they get from other guests – and staff – and the deep connection and understanding between everyone allows the person to know they aren't alone. They get a little bit lighter, and shift from hopelessness to hope. That's when we can start having conversations about their strengths and their future.
For a lot people, it's been a long time since they even believed they even have strengths. The nagging, negative core beliefs begin to break apart and then the next stage of healing and growth begins.
At Herren Wellness we are a giant family. It doesn't feel like a work environment to me. There is a sense of closeness that is almost like a trust fall. That's the only way I can describe it. It's a trust fall for staff and guests alike, as we are all in this together.
The community and the way they support each other is just as important as the way staff support guests, and that isn't something you see everywhere in a treatment setting.
If I were talking to someone who was considering coming to Herren Wellness, I would encourage them to come see – actually, to come feel – it for themselves. Even experiencing 20 minutes of the energy and culture at Herren Wellness is worth it.
I can't think of someone who wouldn't be a good fit for Herren Wellness. Even if only 10% of you wants to heal, that's enough. There is an indescribable feeling of inclusion here.
This sense of inclusion applies to families as much as guests. We welcome the participation of families. I remember the first 4th of July we were open we had a huge celebration, kids were running around and playing, and everyone had so much fun together.
It's an amazing place for healing, and that is as true for the families as it is for the guests.
Herren Wellness Provides Care for the Whole Person
We stand side-by-side with guests as they do the hard work of looking at unhealthy patterns and behaviors and help them build the tools and skills they need to change.
We help guests rediscover their purpose, passions, and strengths. We build self-care and mindfulness skills to help guests become aware, live fully present in their lives, and treat themselves with loving-kindness. We also provide the tools needed to establish healthy habits and patterns like fitness, healthy sleep hygiene, and proper nutrition. We help guests uncover and experience the things that bring joy, meaning, and purpose to their lives.