At Herren Wellness, recovery is a part of our culture and many members of our team live a life in recovery from substance use. Brian Mahoney is a Wellness Associate and Activities Coordinator, a former guest, and true example of the power of recovery. 
I struggled with alcoholism for many years, and it was a constant negative for about 20 years of my life. In my case, it was something that I just always got away with. It had a negative impact on my life, but there wasn't one watershed moment that 'forced' me into recovery.
I had been to a couple of other facilities in the past, I had done outpatient care, but nothing seemed to work.
My alcoholism was causing problems with my relationship and with my family. My wife was the one who found out about Herren Wellness. I had known Chris' story, and had been reading Chris' books, and my wife thought Herren Wellness may be able to help. I knew my drinking was a problem, I knew I needed help, but I wasn't strong enough on my own to go seek it. I also had the feeling that I had already gone to some places and didn't think I could be helped.
When I got to Herren Wellness there was just this completely different feeling than anything I had experienced before. The atmosphere there made me feel like it was okay to be in recovery. I didn't feel ashamed as I had in the past, and that was something Chris proved to me through his own example.
For the first time, I didn't feel ashamed to be in a place where I was seeking the help that I needed.
The experience there was awesome. The staff and the community were all extremely helpful. I was able to explore some of the things in my life that were causing my depression and causing me to keep going back to drinking.
I learned that what I've done in the past I couldn't fix, and that not accepting this was holding me back. When I finally realized the only thing that I could do was to be a better person in my present and future, it helped me let go of negative feelings from the past. This message was something I got at Herren Wellness that I hadn't received anywhere else.
At Herren Wellness we try to promote the positive and help people understand that their disease isn't something uncommon or shameful. We help people feel positive about their recovery, and proud to be doing what they are doing to get better.
We do many fun offsite activities like going to the driving range, apple picking, running, skiing, and more.  It's great for guests to see first-hand that they can have a lot of fun in recovery.
We do a lot of onsite activities as well, like playing tennis or volleyball as a community. These activities foster the connections that are so key in recovery. Guests get fit and healthy, and don't feel like they are just going to groups and meetings all day. Activities and recreation time are an important part of recovery and wellness.
The community there is the key to the success of the program. When good people get together to support one another, you see that miracle happen. People come in at their lowest point, and they really need that support. I think the biggest support comes from the other guests there, because they can relate to exactly how each other feels.
Another special thing about Herren Wellness is they cater to each guest's needs. They understand that everyone comes from a different background and people have unique situations and problems, and they are willing to work with each person individually.
Going to Herren Wellness was the best decision I ever made. Even if you are at a point where you don't think any help will work or get you better, I'm here to say it's not true.
I would tell anyone considering Herren Wellness that they won't ever regret their decision to go there. Go and see it for yourself – come take a tour and check it out. If you give it a shot, it will change your life for the rest of your life. You're really shortchanging yourself if you don't at least explore the opportunity to better your life through recovery.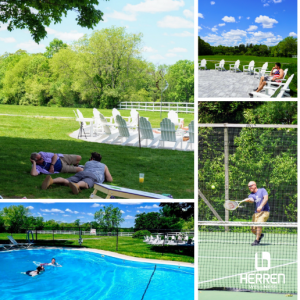 Herren Wellness Can Help
We help guests build the skills that are essential to a sustainable recovery, including mindfulness practices, self-care and self-esteem skills, maintaining healthy relationships, and digging into the root causes of what led them to become dependent. We guide guests on how to build upon the skills they already possess and help them discover their 'why', or what motivates them to maintain a life of wellness and recovery.
If you, or a loved one, is looking for help, please call us at (844) 443-7736, email us at info@herrenwellness.com, or fill out a contact form. You are not alone.