August 31st is International Overdose Awareness Day, which aims to raise awareness and reduce the stigma surrounding substance use. At Herren Wellness we focus on education, awareness, and prevention every day, and International Overdose Awareness Day is an opportunity to broaden education, awareness, prevention, and stimulate discussions which can provide hope to people who struggle with substance use and the people who love them.
There is a lot in the media about the overdose epidemic facing our country, and it can be easy to lose sight of the fact that through conversation, education, and sharing our stories we build hope and inspiration and let people know there are many resources out there to help. There are over 23 million people living in recovery in the United States alone, and together we DO recover!
While it's important to educate people on the signs and symptoms of overdose, and the scope and scale of the problem, we prefer to live in the solution. We want to highlight some of the ways we can all be proactive about overcoming substance use to reduce the number of fatalities and near-fatatlities experienced by people across the globe. We are also passionate about reducing the perceived stigma surrounding substance use as well as informing and educating young people to increase prevention and awareness.
Goals of International Overdose Day
To provide an opportunity for people to publicly mourn loved ones in a safe environment, some for the first time without feeling guilt or shame.
To include the greatest number of people in International Overdose Awareness Day events, and encourage non-denominational involvement.
To give community members information about the issue of fatal and non-fatal overdose.
To send a strong message to current and former people who use drugs that they are valued.
To stimulate discussion about overdose prevention and drug policy.
To provide basic information on the range of support services that are available.
To prevent and reduce drug-related harm by supporting evidence-based policy and practice.
To inform people around the world about the risk of overdose.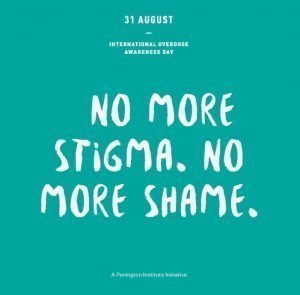 Ways to Participate in International Overdose Day
Over half of the population in the United States alone is directly or indirectly impacted by substance use, and yet so many people feel very alone when they, or a loved one, is struggling. By participating actively during International Overdose Awareness Day (and every day) we can collectively inform, educate, and inspire people to take action, get informed, and access resources that can help.
Here are some ideas for ways to take action:
Share Helpful Information on Social Media: The International Overdose Awareness Day website offers a variety of free, downloadable resources for anyone to print or share on social media. These include fact sheets, logo assets, posters and infographics, among other resources.
Share Your Story of Recovery: Nothing is more impactful than the power of example. If you or a loved one is in recovery share your story. Let others know they aren't alone, and that recovery is not only possible, but transforms lives every day.
Attend an event in your area: To participate in International Overdose Day events and activities in your area, search a list of International Overdose Aware Day activities by state. Events include candle lightings, tree planting, banner signing, and tribute readings (or a mixture of these) to honor those lost to overdose. Other ideas include community events and seminars to educate and inform about substance use awareness and prevention.
Talk to Children about Substance Use and Prevention: Children are the future of our world, and to counteract this epidemic it's vital to inform and educate them about the perils of substance use and ways they can help themselves and their peers if substances become a problem in their lives. As early as middle school kids are being exposed to substances, and the best antidote we have is to start an open and honest coversation with them so they know how to avoid a problem, and where to turn and what to do if they need help.
Educate Yourself about Substance Use: The perils of substance use may not be something you like to think about often, but it's a reality in our lives and the lives of our kids. Ask questions and get educated so you can help yourself or someone you love either avoid substance use or be of help if needed.
Obtain Narcan and/or get Narcan Training: Narcan stops tens of thousands of overdoses from becoming fatal each year, and in many regions of the United States civilians can purchase Narcan through a national pharmacy chain, like CVS or Walgreens, without a presecription. Depending on your community's specific events, public Narcan training may also be available, often through fire/police departments or other public health offices.
Herren Wellness Can Help
We understand that recovery – from anything – is a difficult time full of a range of emotions. We work with guests to create a whole-health action management plan, allowing them to discover and explore many opportunities in recovery. We help guests build the skills that are essential to a sustainable recovery, including mindfulness practices, self-care and self-esteem skills, maintaining healthy relationships, and digging into the root causes of what led them to become dependent. We guide guests on how to build upon the skills they already possess and help them discover their 'why', or what motivates them to maintain a life of wellness and recovery.
If you, or a loved one, needs help with substane use, we can help. Email us at info@herrenwellness.com, call us at (844) 443-7736, or fill our our contact form. You are NOT alone.