Herren Wellness is continuously seeking ways to offer guests multiple pathways to holistic wellness and recovery through innovative partnerships and programs. Holistic therapies include acupuncture, vitamin and massage therapy, meditation, yoga, a focus on nutrition, and physical activity.
In the Spring of 2020, Herren Wellness added hyperbaric oxygen therapy (HBOT) to our program. Since then we have heard from people asking why add HBOT to the list of holistic therapies? As our founder Chris Herren highlights in the video below, why leaving anything off the table that might help someone?
HBOT has successfully helped many of our guests at our Seekonk, MA campus heal from mental, emotional, and physical ailments. To date over 80% have reported increased sleep and energy as well as a reduction in withdrawal symptoms, reduced anxiety and depression.
Through our partnership with ANDI International and the generosity of Ralph and Bobbie Crafts, we are pleased to offer HBOT to our guests at our Twin Oaks Campus as well.

"There was a sense of camaraderie and common purpose with Herren Wellness right from the outset. Ever since we met Chris, Lori, and the team, there has been a natural flow. We knew they were aligned with the way we want to offer HBOT to help people. They have inspired us with their mission."

~ Bobbie Crafts, HBOT Advocate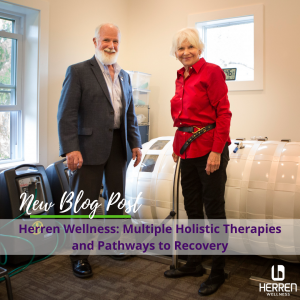 About Hyperbaric Oxygen Chamber Therapy
HBOT is a non-invasive therapy that delivers 100% pure oxygen in a pressurized chamber through the process of normal breathing through a mask. An average session lasts 60 minutes. It improves health and wellness by increasing oxygen in the blood stream.
Benefits of HBOT include:
increasing energy levels
improving concentration
promoting tissue regeneration
reducing inflammation and pain
accelerating the natural repair of damaged organs
enhancing functioning of the immune system
HBOT helps to ward off disease, infection, heal wounded tissues, and promote homeostasis within the body. It helps relieve symptoms of mental health conditions like depression, anxiety, and PTSD.
Our HBOT chambers are monitored by an extensively trained operator who is present throughout the course of the therapy.
Hyperbaric Oxygen Chamber Therapy and Substance Use Disorder
"HBOT creates new micro blood vessels throughout the body. It gives neurons in the brain a chance to heal and build new pathways, creating a clear physiological difference."

~ Ralph Crafts, HBOT Advocate
Substance use negatively impacts the brain and HBOT helps to improve neuron connections by providing oxygen at a cellular level helping to repair damage done by substance use disorder including:
improving symptoms of substance withdrawal
healing damage to the liver, pancreas, and brain
detoxifying cells in the body and the brain
reducing cravings
improved sleep patterns
stimulating appetite
The Herren Wellness Difference
At Herren Wellness we are continuously striving to provide multiple pathways to recovery.
Every guest has different needs for their mental, physical, emotional, and spiritual health. As such, we create individual treatment plans to promote a meaningful and sustainable recovery from substance use and mental health disorders.
When you come to Herren Wellness, you are immediately connected with a thriving community of people at all stages of their recovery journey.
Our support for our guests doesn't end when their stay here ends. Our 24/7 aftercare program provides guests with two meetings a week over a 90-period to provide community support in an out-patient setting through in-person and virtual support. We walk with our guests and their family throughout their journey to recovery and beyond.
If you, or a loved one, is looking for help, please call us at (844) 443-7736, email us at info@herrenwellness.com, or fill out a contact form. You are not alone.