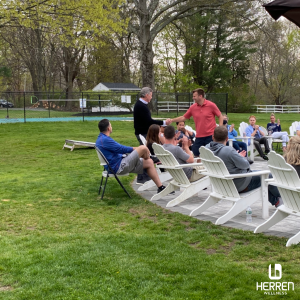 This past week we hosted our first event at Herren Wellness Jacob Hill since the Covid-19 shut down.  Over 50 of our alumni gathered to reconnect and celebrate anniversary milestones from over the past year at a barbecue.  This event was extremely special for our community because it was an opportunity to bring together our alumni and current guests safely – bringing so much joy to staff, alumni, and current guests.
At Herren Wellness we believe that once a guest comes through the door, they become part of our recovery family.  This is the "why" behind our alumni program, to keep alumni connected to each other and the current guests at both Jacob Hill in Seekonk, MA and Twin Oaks in Warrenton, VA.  During the past year we had to pivot and offer our alumni meetings three times a week via Zoom.  Just as the recovery community as a whole had to adjust, Herren Wellness did the same.  The silver lining of Zoom was that current guests met alumni virtually and were able to form relationships.  We were also able to conduct virtual workouts with our trainer Nick each Friday to bridge these two communities.
In this blog we hear from members of our recovery community and their different perspectives and experiences from this special day.
"It was so amazing going back to Herren Wellness for the Alumni BBQ.  With Covid it had been over a year since I have actually been on site (I attend the alumni zoom meetings weekly), and there is something about being on the property that invigorates my recovery.  Seeing the doors with the sign "Welcome Guests", I remembered my first time walking through the doors so desperate for a new life. Coming back and seeing my friends and life coach and meeting current guests felt so good for my recovery.  We also celebrated anniversaries and I love to see people get recognized for their time and hard work.  I also loved meeting some of the current guests at Jacob Hill, I met a woman who has a very similar story to mine and we connected and talked for an hour.  I was able to give her my number and offered to be a support while she is there (at Herren Wellness) and when she leaves.  I am so grateful for Herren Wellness for getting us all together safely and putting on such a great event."                                 
-Herren Wellness Alumni
"First off, thanks for asking me to be a part of this.  I really enjoyed this event for a few reasons… first, having an in-person event is a beautiful thing.  We have been able to connect to alumni via Zoom calls which is a great option but you can't match the personal effect of two people coming together and communicating.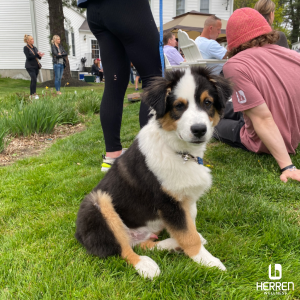 I also loved seeing people get their chips celebrating anniversaries of a year and more, it was a beautiful thing seeing people who have come through the Herren Wellness program and see them still flourishing, it gives me hope as a current guest.  I got to see a couple alumni that I connected to on Zoom, particularly one alum who gave me advice when I was struggling with fleeting thoughts and cravings for using substances.  To be able to see him in person and carry on the conversation after he helped me get to the other side of that was really cool.  He was also able to share with me some other struggles he has has since leaving Herren Wellness and it helped me to prepare for when it's my time to leave.  It was lovely seeing current guests interacting with alumni.  As people with substance use disorder we share a common struggle of isolating and seeing people light up through connection was very reaffirming of my choice to come here.  Lastly, being able to see how connected the Life Coach's are with guests who have come through a year or two years later is really reassuring that when I leave here I still can maintain a piece of that relationship with my life coach that is so special to me. This event gave me a lot of hope for my future outside of Herren Wellness and I really want to say thank you for that."                  
-Current Herren Wellness Guest
"The alumni barbecue was a really great experience to see so many people connect after a year away with Covid was really special.  We had over 50 alumni on site at Jacob Hill and to see the progress that a lot of them have made is something special for me.  Part of the day was highlighting several former guests with anniversaries both one, two, and three year that we weren't able to celebrate during Covid.  It's important for current guests to see that and to realize the program works and there is a happy life in recovery.  For me personally having over two years in recovery and working at Herren Wellness in that time seeing so many people doing well in recovery and feeling connected and around friends was something I never expected to happen when I was first starting out.  I think it's important for current guests to see that living a life in recovery is not a death sentence, living a life in recovery is something that one can truly be happy with.  One of the other great things I saw at the cookout was how many of our alumni have stayed connected to the recovery community, a lot of our staff currently at Jacob Hill came through the program here.  Besides this a lot of our alumni have gone on to work in other recovery settings around the area, and to see all these people come back and talk about the importance of helping others as part of their own recovery is something that really stood out to me.  It was an awesome day and we look forward to hosting more in person events safely moving forward!"
–Brian Mahoney Herren Wellness Staff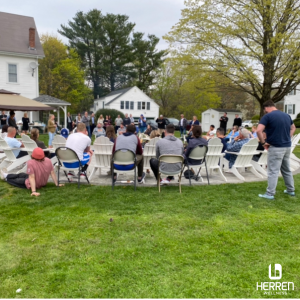 Once you are a guest at Herren Wellness, you become family. We travel this journey together, and this doesn't end when you leave Herren Wellness. We offer a weekly recovery support group and a monthly alumni meeting, as well as a thriving private Facebook group to help you keep in touch and stay connected to our community.
Although it seems like a simple gathering, the alumni barbecue represented hope.  Hope for coming together again safely and connecting in person.  Hope for our current guests to see examples of alumni who went before them thriving in their sobriety and lives.  Hope for the staff who work at Herren Wellness to see our extended family doing the work of recovery, staying sober, and leading lives of meaning and connection.
About Herren Wellness
When you come here, you are immediately connected with a thriving community of people at all stages of their recovery journey. We introduce healthy habits and routines centered around emotional, physical, and spiritual wellness that provide a solid foundation for rediscovering your interests, experiencing joy in sobriety, and building structure and routine.
If you, or a loved one, are looking for help, please call us at (844) 443-7736, email us at info@herrenwellness.com, or fill out a contact form. You are not alone.