As 2021 draws to a close and we gather to celebrate the New Year ahead, what are the options for people in sobriety on the biggest drinking night of the year?
When embarking on a sober life, oftentimes people question "What will I drink at my wedding? How will I survive the holidays sober? Am I capable of celebrating New Year's Eve without drinking?"  Life can feel like it is closing in, when the truth is it is opening up to endless possibilities.
If you think you can't do it, we believe that you can.  Whether you're in recovery, sober, or would rather just not drink, here are a few ideas of how to spend this New Year's Eve.
1. Attend a New Year's Eve Meditation
New Year's Eve events have shifted from the typical booze filled parties, to include holistic celebrations that nourish the mind and body.  On the rise in popularity is New Year's Eve meditation gatherings where attendees are guided through long meditations into the new year.  This allows you to become very clear on your intentions and quiet the mind long enough to discover what it is you really want to achieve, and also leave behind.  A quick online search will bring up local centers in your area offering meditation in person, and virtual options are also available such as The Cambridge Insight Meditation Center NYE Practice & Reflections.  Participating in a meditation (or yoga) event will get you through the evening sober, while nourishing your spirit and renewing you for the year to come.
2. Plan a Game Night
Hosting your own party is a great way to have some control over your environment.  Invite like minded friends who want to celebrate sober, and plan a fun menu of appetizers, sweet treats, and non-alcoholic beverages/mocktails.  Have guests bring over their favorite games and split into teams for some healthy competition and laughs (at Herren Wellness our Life Coaches enjoy playing the game We Aren't Really Strangers with guests).   Before you know it the countdown to the New Year will begin and you and your guests can tune in to Times Square to watch the ball drop.  When getting sober it is common to feel like having fun is out of reach, but hosting or attending an event like this shows what sobriety is all about- connection, support, and celebrating the joy of life.
3. Attend an Alcothon or Narcothon
One of the great things about 12-step programs such as Alcoholics Annonymous and Narcotics Annonymous is how available they are when people need it.  Wherever you find yourself in the world, there is likely a meeting nearby in person, or online.  These programs show up in a big way over New Year's Eve and New Year's Day by hosting ongoing meetings or "Alcathons".  These events are full of speakers sharing their experience, strength, and hope, and also fellowship.  If this is one of your first New Year's sober attending an Alcathon is a great decision for recovery.  Check your local listings for in person and online Alcathon/Narcathon resources.
4. Get Cultured
New Year's Eve is a great opportunity to check out local culture.  All around the country cities and towns put on First Night (some of which are returning in person to ring in 2022).  Outside of our Jacob Hill location is Boston's First Night which will gather in-person throughout the Back Bay for hours of entertainment, ice sculptures, the "People's Parade", and fireworks. The free and family-friendly event will run from 12:00 p.m. on Friday, December 31, 2021 through 12:30 a.m. on Saturday, January 1, 2022, and will feature a wide range of local musicians, artists, and performers.  Our second location Twin Oaks, located outside of DC, has no shortage of cultural options to ring in 2022.   A Jazz New Year's Eve at the Kennedy Center will celebrate with a star-studded evening jazz concert.  Grammy Award-winning jazz artists Dianne Reeves, Chucho Valdés, and Joe Lovano will stand on the same stage performing. Catch the show at either 7 PM or 9 PM. Tickets range from $79 to $89.  Attending an event where you submerge yourself in culture is a great way to get out of the house and expand your mind as you go into 2022.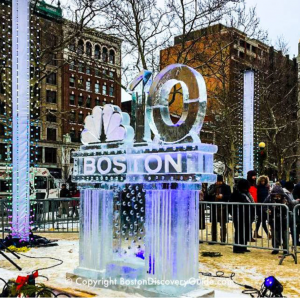 Image Courtesy @BostonDiscoveryGuide
5. Forego Plans
Not often mentioned, but essential, is the option to throw all plans out the window and stay home to take care of yourself.  The most important thing for people in recovery is to protect our sobriety over any and all conditions.  If this is your first go-round with a sober New Year's Eve, or you are going through a particularly challenging time in recovery, there is no shame in playing it safe and staying in.  Listen to your gut… if attending a party where there may be substances makes you nervous, pay attention to what your body is telling you.  If opting to stay home, make sure to stay connected in some way to your recovery network.  Isolation is something to keep an eye on, however being alone while also connected through calls and texts will keep you from feeling isolated.  There is always time to go out and celebrate, but keeping sobriety intact is the goal… so if you stay home this year and wake up in 2022 sober, it's a win.
At Herren Wellness we practice and celebrate recovery one day at a time, not only at the turn of a New Year.  New Year's does, however, give us the opportunity to self reflect and move forward with intention.  New Year's Eve celebrations in active substance use look a lot different than in sobriety, and we are here to tell you that sober is so much better… cheers to 2022.
About Herren Wellness
When you come here, you are immediately connected with a thriving community of people at all stages of their recovery journey. We introduce healthy habits and routines centered around emotional, physical, and spiritual wellness that provide a solid foundation for rediscovering your interests, experiencing joy in sobriety, and building structure and routine.
We provide several alumni support communities, including a weekly recovery support group, monthly alumni meeting, and online alumni community you can access anytime. Your connection to Herren Wellness doesn't end when your stay ends; we are there for you throughout your recovery journey.
If you, or a loved one, are looking for help, please call us at (844) 443-7736, email us at info@herrenwellness.com, or fill out a contact form. You are not alone.