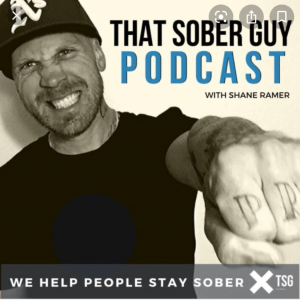 Image Courtesy of That Sober Guy Podcast
5 Sobriety Podcasts to Listen to Now
For those seeking a life in recovery, podcasts have become a useful resource and a life line in the early months of sobriety.  Listeners are able to hear conversations about recovery with the tap of a finger, and also join communities which these podcasts have built on social media.
Today we round up our top five podcast of the moment: 
Shane Ramer created That Sober Guy podcast in 2015, a year into his recovery from a 17 year battle with drugs and alcohol.  Shane shares his experience and invites guests on to share their journey with listeners.  Guests include celebrities and also non-famous people who share their stories of transitioning from a life of addiction to one in recovery.  That Sober Guy has 346 episodes and a 4.5 star rating out of 379 reviews.
Here's what people are saying:
"If you like something raw and real then this is it.  Shane speaks through this podcast in my opinion like we are just friends having a conversation.  This has been very beneficial and is part of my daily routine staying sober.  Super cool dude and will respond if you drop an email!  Keeping it personal, also many many great resources for sobriety."
Jean McCarthy has been hosting The Bubble Hour since 2013.  Jean's goal is to break down the stigma of alcoholism, particularly for women, through bringing sober guests on her show and sharing the struggle for sobriety.  The Bubble Hour seeks to inform, educate, and help people to identify with these stories through conversations and interviews with people who are just like they are, and let people know they aren't alone.  Jean has built a strong community with 75,000 monthly downloads and a 4.5 star rating out of 439 reviews.
Here's what people are saying:
"I was referred to The Bubble Hour by a friend of mine in recovery.  I started listening to this podcast in my first few months of sobriety and it was so helpful and provided me with such hope!  I can relate to something said in each episode and it provides such a safe, positive and uplifting place to go for women in sobriety or women interested in sobriety.  Thank you so much Bubble Hour!"
World renowned life coach Omar Pinto created The Shair Podcast in 2015.  Each week Omar interviews individuals who share their journey to recovery and also takes a unique approach by doing live one on one coaching calls for his audience to learn from.  Omar helps people break free from unhealthy habits and heal the aspects of their life that impede them from experiencing joy.  Omar welcomes people who are sober and also those interested in learning more about an alcohol free lifestyle.  Hundreds of episodes and a 5.0 rating out of 524 reviews, The Shair Podcast provides a great resource.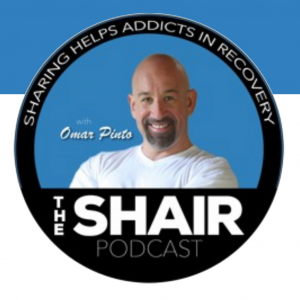 Image Courtesy of The Shair Podcast
Here's what people are saying:
"This podcast has amazing content that I can relate to and it has kept me sober.  It has changed my life to have this resource available to me in my home, car, etc.  It started as a podcast for me but now it has become a supportive and loving community.  Thanks Omar for providing this resource and caring!"
In 2018 Jessica Jeboult created A Sober Girls Guide sharing her experiences from her sobriety attempts over 10 years.  No topic is off limits with Jessica, from health and fitness to relationships, dating and sober sex.  Jessica features special guests each week and brings her wit and personality to subjects that are heavy.  With a focus on women, Jessica brings to her show sober "boss babes" and provides a fun and useful resource for modern-day sobriety with 4.5 stars out of 227 reviews.
Here's what people are saying:
"This podcast is amazing! Jessica is such an inspiration and an open book!  I love her and all that she is about.  Her podcast, Instagram, and Facebook group is really helping me through my recovery.  I am on my journey now and I'm having good and bad days.  But in any of those days (good or bad) I know I can plug my headphones in and listen to one of her podcasts and escape for a bit and it helps me get through!"
Image courtesy of @the_sobertherapist
The Sober Therapist was started in 2018 by Clinical Counselor and Master Coach Lynn Matti.  Lynn offers her professional and personal wisdom, evidenced-based therapy along with new and time tested tools, guidance, and inspiration for seekers of holistic mental wellness. Her mission is to help others choose, moderation, abstinence, sobriety or recovery from busyness, overuse or addiction to alcohol, other substances or unhealthy behaviors.  With 158 episodes and a 4.5 rating out of 267, The Sober Therapist podcast continues gaining momentum since its inception.
Here's what people are saying:
"This podcast has been such a great addition to my recovery toolbox.  Listening to someone so knowledgeable in the recovery space is so enlightening.  Don't get me wrong, I love anecdotes and storytelling but when it comes down to it Lynn really knows her stuff.  She helps her listeners dig deep.  Sobriety for me is not only abstaining but getting to the root of the problem so I can live a more balanced and healthy life.  My recovery feels so much more sustainable with the right information."
Podcasts are great resource to provide a sense of connection and the hope needed to live a life in recovery. At Herren Wellness our guests are introduced to multiple resources, strategies and tools to live healthy, authentic and substance-free lives.
About Herren Wellness
When you come here, you are immediately connected with a thriving community of people at all stages of their recovery journey. We introduce healthy habits and routines centered around emotional, physical, and spiritual wellness that provide a solid foundation for rediscovering your interests, experiencing joy in sobriety, and building structure and routine.
We provide several alumni support communities, including a weekly recovery support group, monthly alumni meeting, and online alumni community you can access anytime. Your connection to Herren Wellness doesn't end when your stay ends; we are there for you throughout your recovery journey.
If you, or a loved one, are looking for help, please call us at (844) 443-7736, email us at info@herrenwellness.com, or fill out a contact form. You are not alone.