Lori and I at Herren Wellness
5 Lessons in 5 Years of Recovery
Recovery has given me a life worth living and countless blessings. As I celebrate my journey of 5 years in recovery this week, I reflect on the lessons these years have taught me.
Lesson 1: I was the only one who could get me sober
At age 26 I googled: Alcohol Help Boston, and landed in the office of a sweet woman named Susie with a small dog Maura.  I explained how my drinking was causing consequences in my life: constant conversations with my boyfriend, absences at work, and self loathing that I couldn't shake.  I listed them off swiftly and Susie said, in the way that she does:
"But Rachael, is what you're doing hurting your spirit?"
My head fell and tears streamed down my face.  Yes, I was hurting my spirit.  This sober spell lasted about a month until I convinced myself that I no longer needed to see Susie or attend AA meetings.  Three more years of pain drinking without my own permission until the day finally came.  
February 18, 2016 my friend Matt was driving me to detox.  That week my life slipped through my fingers… the relationship that was hanging in the balance finally broke.  I started a new job and was let go the same day due to drinking.  I found myself alone… but in this pain my willingness and desperation finally met and I reached out for help.  There was something different about this time. 
Before this day my family and friends had expressed concern and through their help and support I was led to this moment, to make that call for help and now I was on my way to treatment. 
Lesson 2: I had to learn to love myself
When I left detox I headed to a TSS treatment center called New Hope.  I walked in with my trash bag of belongings and waited to be admitted.  
"Ernie!  We've got a live one!"
Down the hall walked a very tall man with a limp and a mustache.
A collage I made while in treatment
"You Rachael?
"Yes."
"Follow me."
I walked the long hallway into his office.  I sat down and he pulled out a clipboard, and to my surprise, a camera.  He snapped a photo to put in my file, and then went to the intake questionnaire.  Pretty suspect questions, but then Ernie looked up from his clipboard.
"Any alcoholism in the family?"
"Yes."
"So you're telling me you really didn't stand a chance?"
Just like that moment with Susie… the tears fell.  I felt seen and understood.
"Do you think you love yourself?"
"Well… I really like my personality."
Ernie made a big X on his paper:
"That would be a no."
I got it.  I had no self love with the way I was treating myself with drinking.  I could like the person I portrayed to the outside world… but inside I would destroy myself emotionally and physically with alcohol.  
My journey of self love started that day in Ernie's office.  I stopped  betraying myself emotionally, physically, and spiritually.  This was the beginning.
The Big Book of Alcoholics Anonymous and Daily Reflections
Lesson 3: Do the Next Right Thing
Step 9 in the 12 steps:
Made direct amends to such people wherever possible, except when to do so would injure them or others.
At about a year and a half sober I reached my amends process.
People on the list included my boyfriend (now husband), my in-laws, friends, and Joseph.
In my 20's I lived in the north end of Boston in an apartment that I naively thought I could afford.  A sweet older man named Joseph was my landlord and also owned the local pharmacy downstairs and his nephew the liquor store down the street.  After a few months struggling to make rent I found a room in an apartment down the street for a third of the cost.
I packed my stuff up, left, and never paid Joseph that last month's rent.  Everyday I would walk by the liquor store and see his Nephew, and then the pharmacy and see Joseph.  I had to cross the street to avoid any contact.  Everyday. 
It was a Friday before an AA  meeting I ran each week in the North End, and it was time to make my amends to Joseph.  I walked into the pharmacy and turned to the left and saw Joseph sitting at a table fixing a cassette tape.  I took a deep breath and walked over.
"Hi Joseph, I don't know if you remember me but my name is Rachael Greene and I am here to make an amends to you for not paying a month's rent.  I take responsibility for this and I want to give you this check which will take care of what I owe."
He looked puzzled and I explained to him how I am sober and in a program of recovery which suggests that I right the wrongs in my past.  I told him how I ran a meeting down the street every Friday and he smiled and said:
"Don't ever give up.  And don't be a stranger."
From that day on I never had to cross the street again in fear, and every now and then I'd pop in and say hi to Joseph.  The following week after the amends he was waiting outside the pharmacy for me to say hi.
Doing the next right thing sets me free… free of fear, and free to be me.
Lesson 4: I am able to be content in the present moment 
Shortly after celebrating a year of sobriety, I joined my now husband on a family trip to Florida, where his parents have a second home.  We were joined by his sister, brother in law,  niece,  and nephew who were young at the time (two and four). 
I had a blast on the trip… time at the pool with the kids, taking them to the playground and beach, dinners with the family, and a special night out with James.  
When I came home I sat in Susie's office and told her about the trip:
"Susie you don't understand, I was SO happy on this trip.  I don't even know how to describe it… I felt so alive and connected."
Susie smiled her calm Susie smile.
 "It sounds like you were present."

"No, it was way more than just that.  I don't know how to explain."
Susie was correct, what I was experiencing was foreign to me because before entering recovery I couldn't really enjoy the present moment.  Somewhere in my mind there would be discontentment if I wasn't drinking, and if I was I would only care about the booze not the people or experience. 
Recovery has given me an inner peace where the present moment, no matter how it looks, is acceptable.  Because I am good with me.       
5. Leave room for hope and Miracles 
 I consider the dark night of February 17, 2016 a miracle.  I had the moment when I was ready to stop drinking.  I read a quote in my early sobriety that always stuck with me:
"Coincidence is God's way of remaining anonymous." -Albert Einstein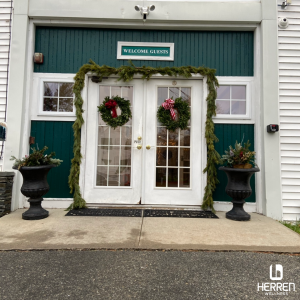 The further along I go in my recovery journey all of the hunch's and coincidences have played out in ways beyond my wildest expectations.  Most recently approaching five years sober I realized that I never dove into a blog I started back in 2017.  A blog about my life and sobriety.  In recovery I have gotten married, bought a house, landed a great job, had a beautiful daughter… but that blog never left my mind.
In 2020 I decided to get back to it.  I couldn't shush the voice in my head any longer.  It flowed out of me and gained some traction.  Chris Herren began following along which was very surprising and flattering to me because I knew of Chris.  I knew him from watching his documentary Unguarded when I was in treatment.  I admired him immensely.  
On a whim, and a hunch, I reached out to Chris and asked if I could send along my resume in the event that I could be a fit at Herren Wellness.  I was shocked to receive a reply, even more shocked to be sitting in an office with him and Lori telling them about myself, and blown away to have received a job offer to take over this blog and social media stories.
Recovery has given me the gift of trusting myself, I knew that I could have a positive influence on the Herren Wellness community, if only I was given the chance.
Chris and Lori gave me that chance and now I am doing something I love more than anything.  
A miracle.  
If you or someone you love is struggling please feel free to reach out to me or a member of our team.  We would love to help and pass on the gift of recovery. 
About Herren Wellness
When you come here, you are immediately connected with a thriving community of people at all stages of their recovery journey. We introduce healthy habits and routines centered around emotional, physical, and spiritual wellness that provide a solid foundation for rediscovering your interests, experiencing joy in sobriety, and building structure and routine.
We provide several alumni support communities, including a weekly recovery support group, monthly alumni meeting, and online alumni community you can access anytime. Your connection to Herren Wellness doesn't end when your stay ends; we are there for you throughout your recovery journey.
If you, or a loved one, are looking for help, please call us at (844) 443-7736, email us at info@herrenwellness.com, or fill out a contact form. You are not alone.