National Recovery Month is held every September to raise awareness and educate Americans that recovery is possible and through treatment thousands of people live healthy and rewarding lives. The theme for the 2020 National Recovery Month is Join the Voices for Recovery: Celebrating Connections.
In its 31st year, National Recovery Month honors the achievements made by the millions of people nationwide living in recovery every day. It is also an opportunity to bring awareness to new evidence-based treatment and recovery practices, to honor the recovery community as a whole, and to celebrate the thousands of dedicated clinicians, recovery team staff and community members who work to make recovery – in all its forms – possible.
For 30 years National Recovery Month was hosted by the Substance Abuse and Mental Health Services Administration (SAMHSA), and this year they are handing the reins over to the recovery community through the organization, Faces & Voices of Recovery.
Faces and Voices of Recovery is a national organization dedicated to mobilizing the over 23 million Americans in recovery from substance use disorder, along with their families, friends, and support systems, to promote advocacy, education, and resources that demonstrate the power and proof of long-term recovery.
2020 National Recovery Month Events
There are many ways to honor and celebrate National Recovery Month. Start by checking out Faces and Voices of Recovery's September calendar which is full of ideas, events, and inspiration for ways to celebrate and support the recovery community, dedicated service providers and community members across the nation who make recovery possible.
The Coronavirus pandemic has made in-person events more difficult, but that doesn't stop the celebration! Some rallies have been moved outside and there are several educational webinars and online social events you can host and/or attend.
Weekly/daily events include:
Herren 2020 National Recovery Month Events
Across all Herren organizations, we believe in the healing power of recovery, and we know that strong community and connections makes for a strong recovery.
To support the 2020 National Recovery Month theme, Join the Voices for Recovery: Celebrating Connections, the Herren Wellness community will be participating in various events that combine holistic wellness and healthy activity aimed at sustained recovery with a focus on connection through sport, art, physical activity, remembrance, and recovery. Throughout the month of September, we will be sharing pictures of activities, events, and how recovery connects us as a community.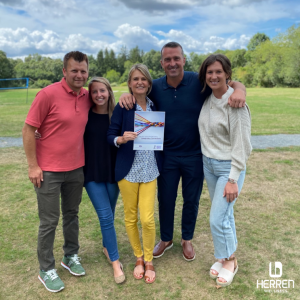 Additionally, Chris Herren's nonprofit organization Herren Project is hosting contests and virtual events to celebrate National Recovery Month, including:
A video contest showing the power of connection in recovery or everyday life.
A photo contest that invites you to submit photos showing how you celebrate recovery and/or live substance-free in September.
A Webinar: Recovery During the Global Pandemic presented by Paul White, LMHC, Herren Project Lead Clinician on Monday, September 14 at 4pm ET.
Zoom Screenings of the MTV four-part documentary series "16 and Recovering" followed by a 30-minute Q&A with special guests and clinicians starting Thursday, September 3 at 7:30pm ET.
Learn more about Herren Project's recovery month events and register by visiting: https://herrenproject.org/recovery-month/
About Herren Wellness
At Herren Wellness we witness the healing power of recovery each day as we walk with guests on their journey. We understand that recovery takes time, that there is not one path to recovery and through community and positive connections that sustained recovery can be achieved.
When you come here, you are immediately connected with a thriving community of people at all stages of their recovery journey. We introduce healthy habits and routines centered around emotional, physical, and spiritual wellness that provide a solid foundation for rediscovering your interests, experiencing joy in sobriety, and building structure and routine.
We provide several alumni support communities, including a weekly recovery support group, monthly alumni meeting, and online alumni community you can access anytime. Your connection to Herren Wellness doesn't end when your stay ends; we are there for you throughout your recovery journey.
If you, or a loved one, are looking for help, please call us at (844) 443-7736, email us at info@herrenwellness.com, or fill out a contact form. You are not alone.
.